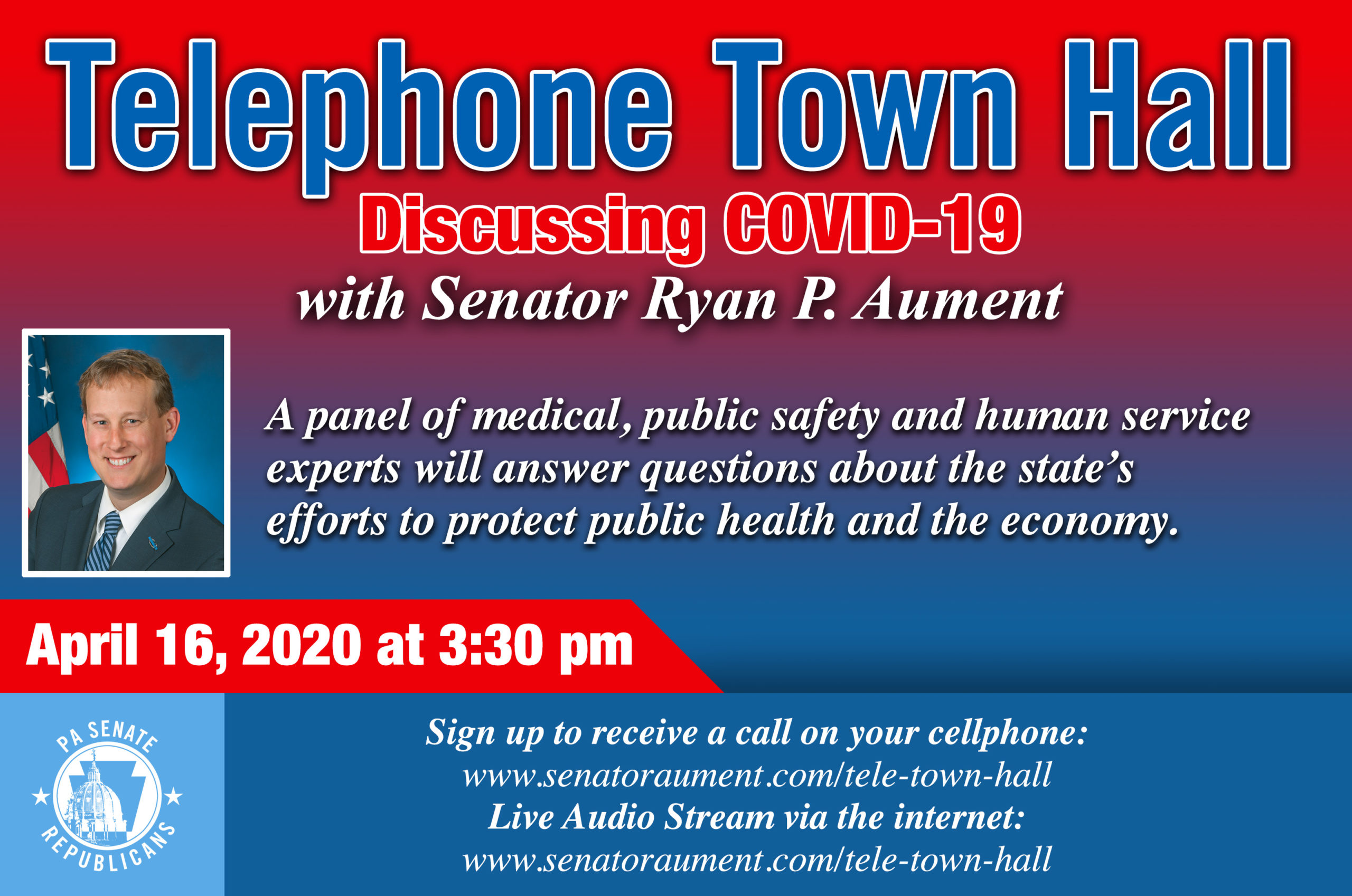 I recently answered questions and gathered feedback from community residents during a live telephone town hall specifically to discuss coronavirus-related issues on April 16 from 3:30-4:30 p.m. Residents were able to register online or stream the audio live from my website.
This tele-town hall format encouraged community residents to participate in a discussion while practicing social distancing to prevent the further spread of COVID-19. Participants were able to ask questions or simply remain on the line to listen to the discussion.
Guest panelists for the discussion included:
Michael Ripchinski, Chief Clinical Officer at Penn Medicine Lancaster General Health, who is responsible for quality, safety, and informatics/analytics across Lancaster General Hospital, Women & Babies Hospital, Lancaster General Health Physicians, the system's ambulatory sites, and the clinically integrated network.
Eric Kratz, Executive Director of the Senate Labor & Industry Committee which oversees issues and legislation related to unemployment compensation. He previous worked for the Department of Labor & Industry in Policy and workforce development.
Lisa Riggs, President of the Economic Development Company of Lancaster County, an organization focused on helping to retain and expand businesses in the County. She also oversees EDC Finance Corporation, which is a conduit for select state and federal business lending programs. Riggs began her role at EDC in 2014. Prior to that she served in several economic development leadership roles in Lancaster and in Baltimore, Maryland. Ms. Riggs is a resident of East Hempfield Township with two children in the Hempfield School District.
---
Listen – Full audio from the April 16th, 2020 Telephone Town Hall
Listen – Greeting
Listen – Overview of Recent COVID-19 Legislation (SB613 and SB327)
Listen – Poll Question
Listen – Introduction of Panelists
Listen – 1st Question: If you own a small business and were forced to close, can you collect Unemployment Compensation (UC)?
Listen – 2nd Question: Should an individual who is considered a "corporate officer" at an incorporated business apply to Pandemic Unemployment Assistance (PUA) or apply to regular UC?
Listen – 3rd Question: Why can't golf courses be open when fishing is allowed and both activities can practice social distance in much the same way?
Listen – 4th Question: If the Governor vetoes Senate Bill 613 and the Legislature can't override the veto due to the required 2/3 majority vote to do so, is the next step to pass a concurrent resolution to bypass the governor that would require only a simple majority?
Listen – 5th Question: Since there is so much still unknown about COVID-19, are we sure that another wave of cases won't resurge in a few weeks if we reopen the state too soon? Are we sure there aren't any negative long-term effects of this virus?
Listen – 6th Question: If my business was denied funds from both of the federal assistance programs for small businesses (Economic Injury Disaster Loan or "EIDL" and Paycheck Protection Program "PPP"), is there any state level assistance available?
Listen – 7th Question: Under the Governor's emergency declaration, does the Governor consult the Legislature on actions he anticipates implementing?
Listen – Reiteration of Poll Question
Listen – 8th Question: Why can't car dealerships be open if they practice appropriate CDC-recommended guidelines for social distancing like other states have done?
Listen – 9th Question: Is the state planning to do anything to help residents who can't afford their school property tax bill due to the pandemic?
Listen – 10th Question: Is the daily number of cases being reported in Lancaster County the running total or active total of those who are currently sick?
Listen – Eric Kratz Shares Unemployment Compensation Resources for Pennsylvanians
Listen – 11th Question: If I did not earn enough in the previous quarter to meet the $3,000 requirement to be eligible for UC, is there any financial assistance available for me?
Listen – Lisa Riggs Provides Update on Local Economic Recovery Plans for Lancaster County
Listen – 12th Question: Will you sponsor or support a bill that would allow us to vote by mail before the upcoming state primary, considering we may be unable to physically attend polling centers due to social distancing?
Listen – 13th Question: Why can big box stores like Home Depot sell plants but small, locally-owned garden centers can't be open?
Listen – Poll Question Results
Listen – Closing
Poll Question Results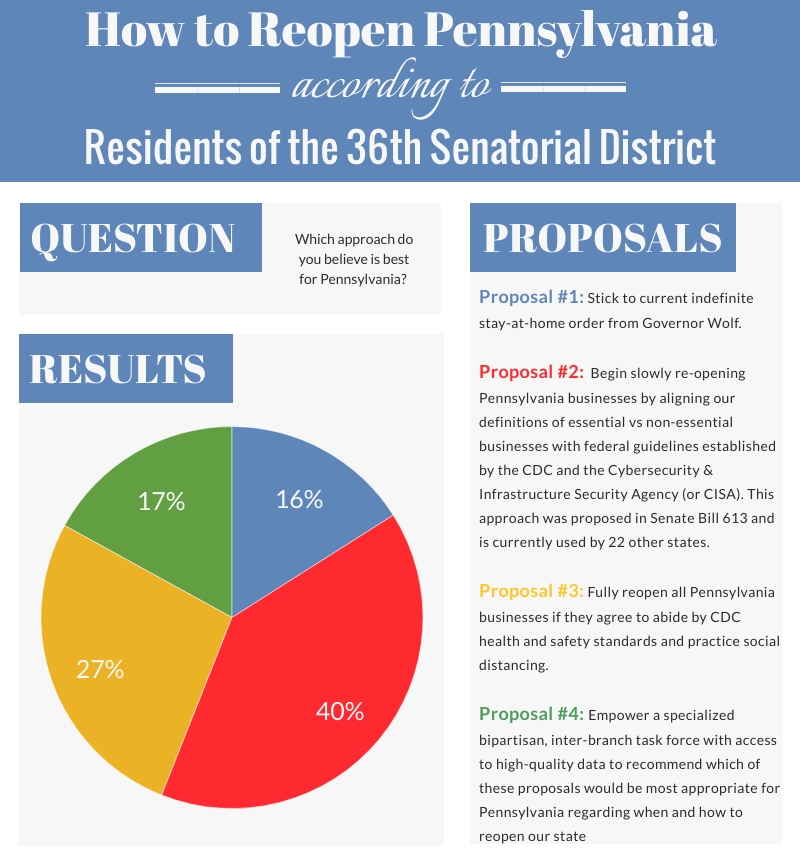 Community residents can register to participate in future tele-town hall by visiting www.senatoraument.com/tele-town-hall.