Introduction | Summary | Statistics | Myth vs Fact | News | Feedback
Introduction
Problem: Under Pennsylvania's current system, a candidate can win their primary election with only a small fraction of the vote. This leaves the majority of voters feeling dissatisfied with their party's nominee on the November general election ballot.
Historically, candidates who fail to win at least 50% of the vote in their primary election go on to lose in the general election.
Solution: We sponsored legislation to create a primary runoff election system in Pennsylvania where candidates must compete for and win the support of a majority of their party's voters. The proposal requires a candidate to earn at least 50% of the vote to win their party's nomination.
Primary runoff elections are a good government measure that:
Give voters more opportunity to have their voice heard.
Reward candidates who can work collaboratively and solve problems for Pennsylvanians.
Present voters with better choices on the ballot.
Prevent voters from being constantly stuck with a candidate they overwhelmingly oppose.
Produce stronger, high-quality candidates with broad support.
Bottom Line: Primary runoff elections result in stronger candidates with widespread appeal and majority support, which is better for Pennsylvania.
Summary
Our proposal would create a primary runoff election system in Pennsylvania. It would require candidates to win at least 50% of their party's support in the primary election before they can be declared the winner and advance to compete in the November general election.
If no candidate can earn at least 50% of the vote in the primary election, then a second or "runoff" election would be held between the top two vote getters. The candidate with the most votes in the runoff election wins and goes on to compete in the general election.
Our proposal would only apply to statewide offices (governor, lieutenant governor, and row offices such as Attorney General, Treasurer, and Auditor General), federal offices (U.S. Senate and Congress), and the state legislature. It does not impact county government, municipal government, or school districts.
Read more about our proposal here.
Statistics
Nearly every candidate who has run a statewide campaign in an open race for Governor or U.S. Senator in Pennsylvania in the last 50 years LOST in the November general election if they failed to win at least 50% of their party's vote in the primary election.
Examples from other states with primary runoff elections show that they benefit strong grassroots candidates:
Ted Cruz would not be a U.S. senator had it not been for primary runoff elections.


In 2012, Cruz was running against establishment-favorite Lt. Gov David Dewhurst. Dewhurst heavily outspent Cruz in the race.
Dewhurst won the initial primary election with 45% of the vote; Cruz got 34%; seven other candidates combined for the remaining 21%.
In the runoff, Cruz won with 57% — demonstrating that grassroots campaigns can and have prevailed in runoffs against establishment politicians.

South Carolina Congressman Jim DeMint defeated the frontrunner, former Governor David Beasley, in a primary runoff election in 2004.

In the initial primary election, Beasley won 37% of the vote; DeMint got 26%; Thomas Ravanel 25%; and the rest of the candidates combined for the remaining 11%.
Jim DeMint won the runoff 59% to Beasley's 41% and then won the US Senate seat in November.
Currently, ten states require a runoff in primary elections if candidates do not win with a certain required threshold for victory: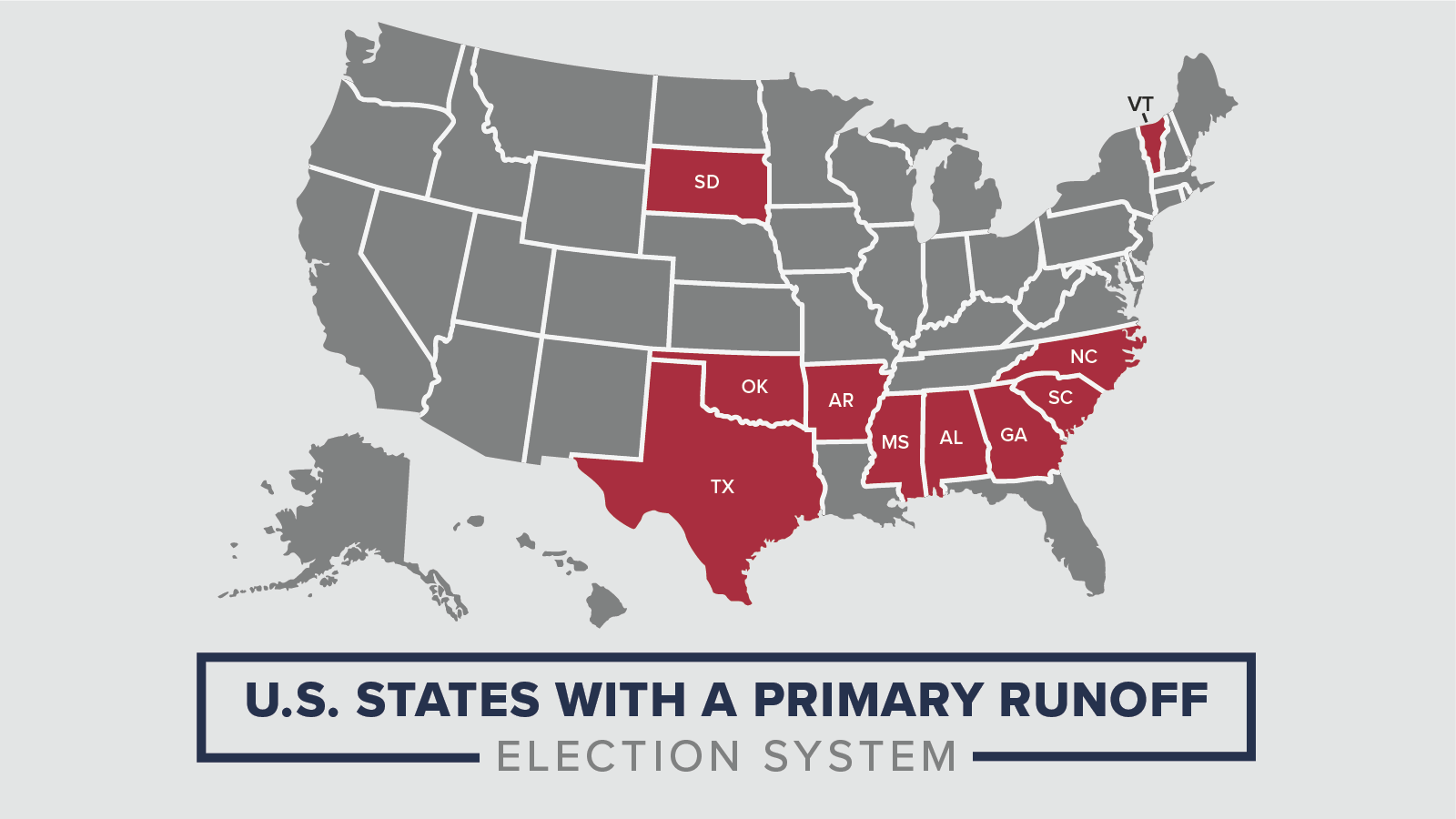 Myth vs Fact
News
May 30, 2023: Primary Runoff Elections Produce Better Candidates and PA Needs That
May 24, 2023: Aument, Farry to Introduce Primary Runoff Bill
Feedback
Join the discussion!
To effectively build a fair, secure, and reliable election system in Pennsylvania, I will need the continued engagement of my constituents and local leaders. An ongoing dialogue between lawmakers and those they represent is absolutely critical to succeed.
As such, please fill out my Voice Your Concerns Form with any further questions, thoughts, or concerns you may have. I firmly believe that an open and productive conversation is necessary as we seek to build a stronger Pennsylvania, together.
Telephone Town Hall to Discuss Primary Runoff Elections
In June 2023, I hosted a telephone town hall event with over 3,200 constituents to discuss the pros and cons of creating a primary runoff election system in Pennsylvania. Participants had the opportunity to ask me questions directly and share their thoughts on this policy and other state-related issues that are important to them.
You can watch video footage of the entire event and view the results of poll questions asked during the call here. Or simply view my opening remarks from the event here: