Bill Signing Event Recognizes New Resources for Military Monuments
I was honored to join members of the military and veterans community and Governor Wolf this week for a bill signing event for Senate Bill 552 – legislation I sponsored to provide new resources to protect and preserve monuments dedicated to our military and veterans.
My bill, which was passed by the General Assembly in June, establishes the Pennsylvania Veterans' Monuments and Memorial Trust Fund. The new law will dedicate existing funding toward the operation and maintenance of monuments designated by the Department of Military and Veterans Affairs in consultation with the State Veterans' Commission.
More information on the new law is available here.
REAL ID Deadline Extended
The U.S. Department of Homeland Security has extended the deadline for state residents to comply with new photo identification standards. Pennsylvanians can continue to use their current driver's license or photo ID card to access federal facilities, including courthouses and prisons, and board commercial aircraft through August 2019.
A federal law that requires state driver's licenses and photo ID cards to meet more stringent security standards will go into effect on October 1, 2020. After that date, standard driver's licenses and photo ID cards will no longer be accepted for entry into federal buildings or to board a commercial aircraft; customers who wish to use their photo ID for these purposes must apply for a special new license or photo identification card that complies with federal REAL ID standards.
REAL ID is optional for state residents. New driver's licenses and photo ID cards will be available for Pennsylvanians beginning in March 2019. More details about REAL ID are available here.
---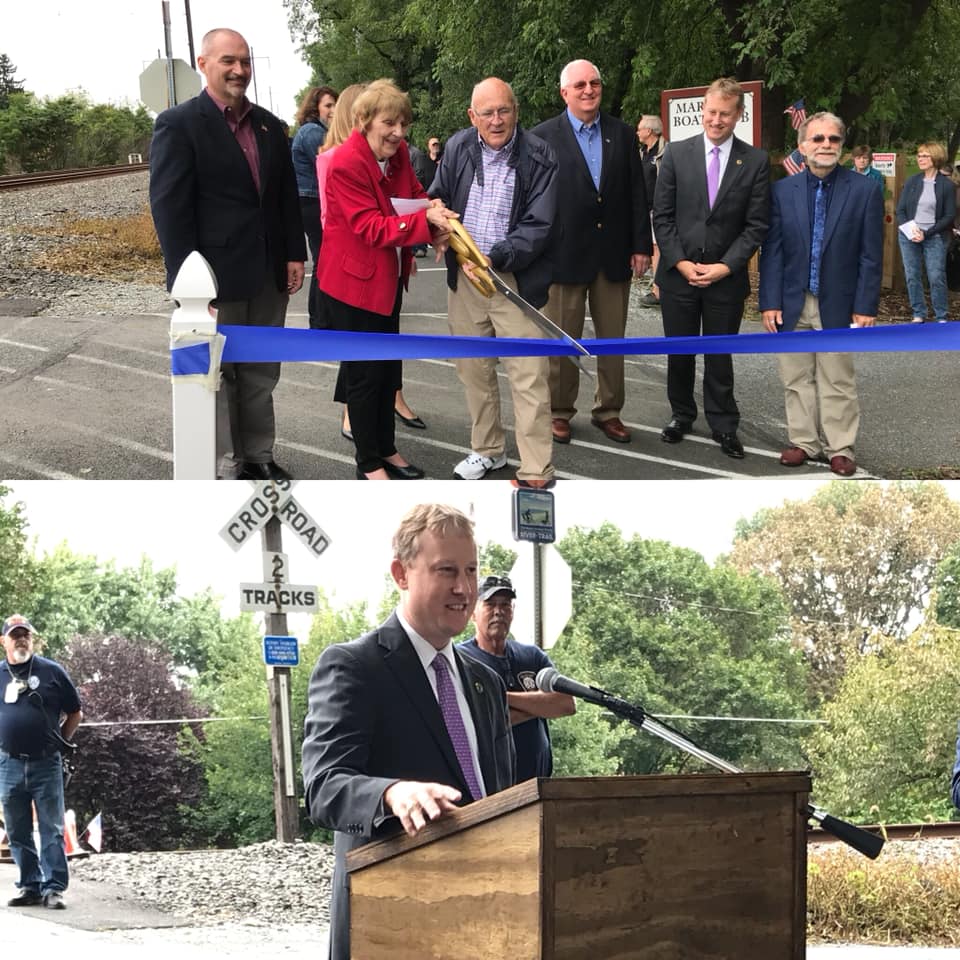 I appreciated the opportunity to celebrate the official opening of the Marietta Portion of the Northwest River Trail.
---
October is Cyber Security Awareness Month
It is critical for internet users to take the necessary precautions to avoid having sensitive information fall into the wrong hands. In recognition of Cyber Security Awareness Month in October, the U.S. Department of Homeland Security is encouraging Pennsylvanians to learn more about how they can prevent a cyberattack.
Additional information is available online here, including a special toolkit that provides resources to help state residents stay safe online.
New Campaign Promotes Fire Prevention Awareness
The week of October 7 through 13 is designated as National Fire Prevention Week. The National Fire Protection Association recently launched a new public awareness campaign to help more people recognize home fire risks.
This year's campaign encourages people to observe the three basic steps to reduce the risks posed by household fires, including looking for places a fire could start, listening for the sound of fire alarms, and learning two ways out of every room.
More information on the new fire prevention campaign is available here.
Steer Clear Law Aims to Save Lives
Pennsylvania's "Steer Clear" Law requires motorists to move over and slow down when approaching the scene of an emergency, a traffic stop or a disabled vehicle. The Pennsylvania State Police have created a webpage and an online brochure to help motorists learn about their responsibilities under the law.
Additional details about the Steer Clear law are available here.
If you are not already subscribed to this newsletter please sign up here.