Thank you for subscribing to my E-newsletter. I am honored to serve the 36th Senatorial District and look forward to working with you toward building a stronger Pennsylvania. This E-newsletter serves to keep you updated on what is happening throughout  Lancaster County and what I am doing as your State Senator in Harrisburg – I hope that you find it helpful! Should you have any questions, comments, or concerns, please DO NOT reply to this email; instead, please feel free to contact me here.
In this Update:
Discussing Power Grid Reliability
Join the Upcoming Community Discussion on Early Childhood Education in Lancaster County
Supporting Children Who Faced Trauma
Discussing Traditional American Values with Garden Spot Village Resident
Submit or Search for a Veteran Job
Happy 100th Birthday to Elizabethtown Resident
Save Your Child from Preventable Death
Watch Out for Heat-Related Illnesses
Smart Money Management Leads to Financial Independence
Searching for High School Students to Keep PA Clean
---
Discussing Power Grid Reliability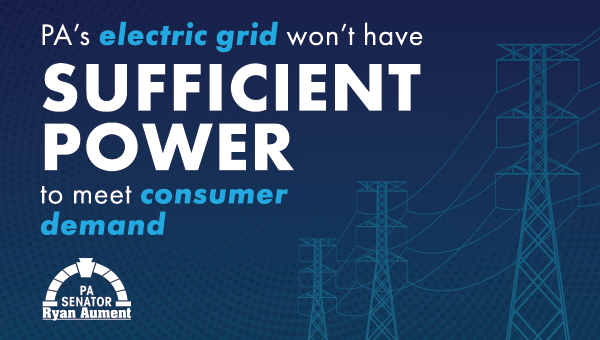 At a recent meeting of Pennsylvania and Ohio legislators, PJM Interconnection officials discussed the reliability of the mid-Atlantic power grid they manage and its infrastructure. We also received an update on the outlook of the region's production power.
PJM Interconnection officials stated that, at the current course, they are not going to have sufficient power to meet the demands of consumers. We need collaboration and unification to address this challenge and avoid increased prices, risks of blackouts, and restrictions on when and how we can use electricity.
Learn more about the conversation here.
Join the Upcoming Community Discussion on Early Childhood Education in Lancaster County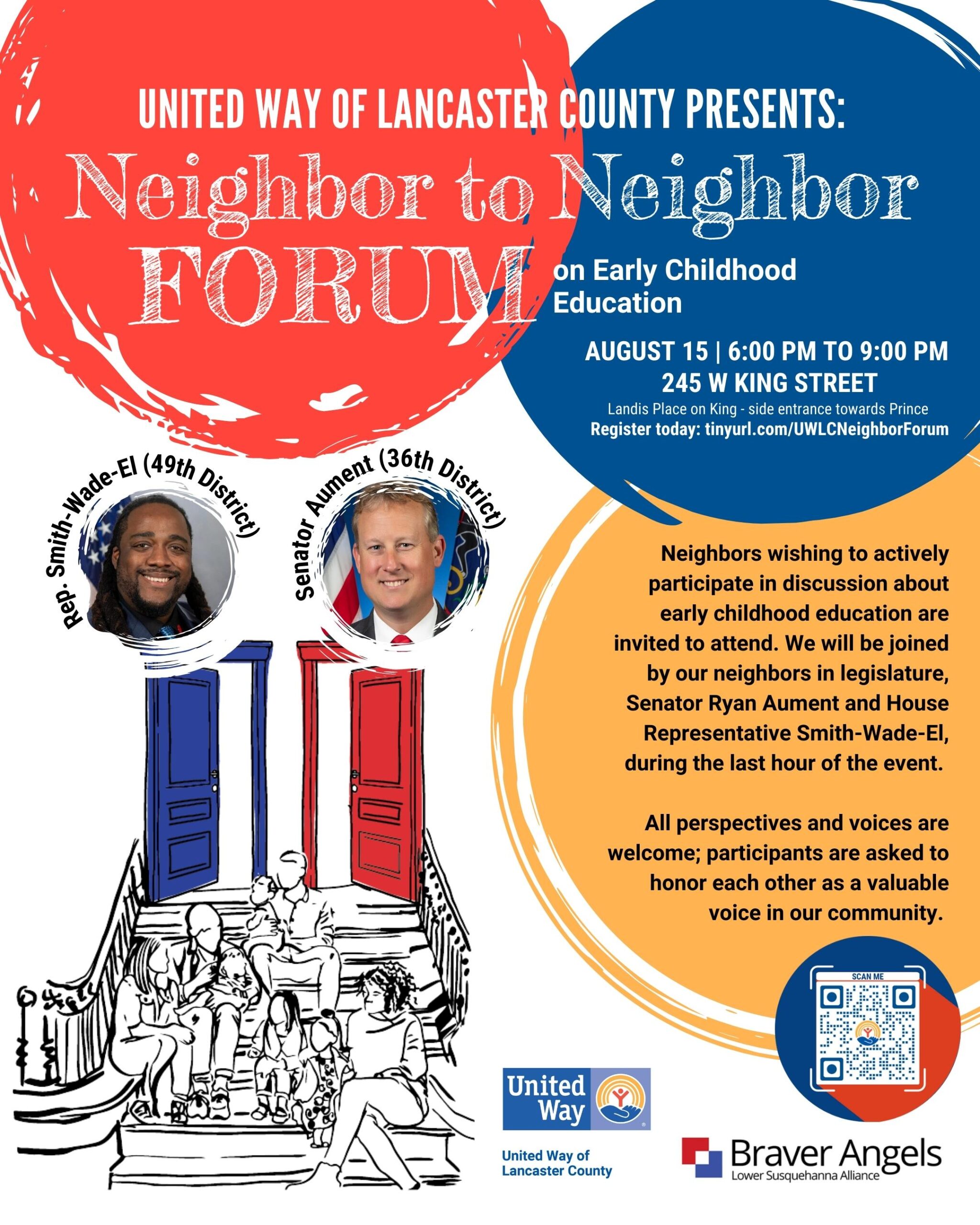 The United Way of Lancaster County and Braver Angels Lower Susquehanna Alliance are hosting a town hall style event where Rep. Smith-Wade-El and I will engage in a bipartisan discussion about the future of early childhood education in Lancaster County and Pennsylvania. Please consider attending or livestreaming the event! Details are available here.
Supporting Children Who Faced Trauma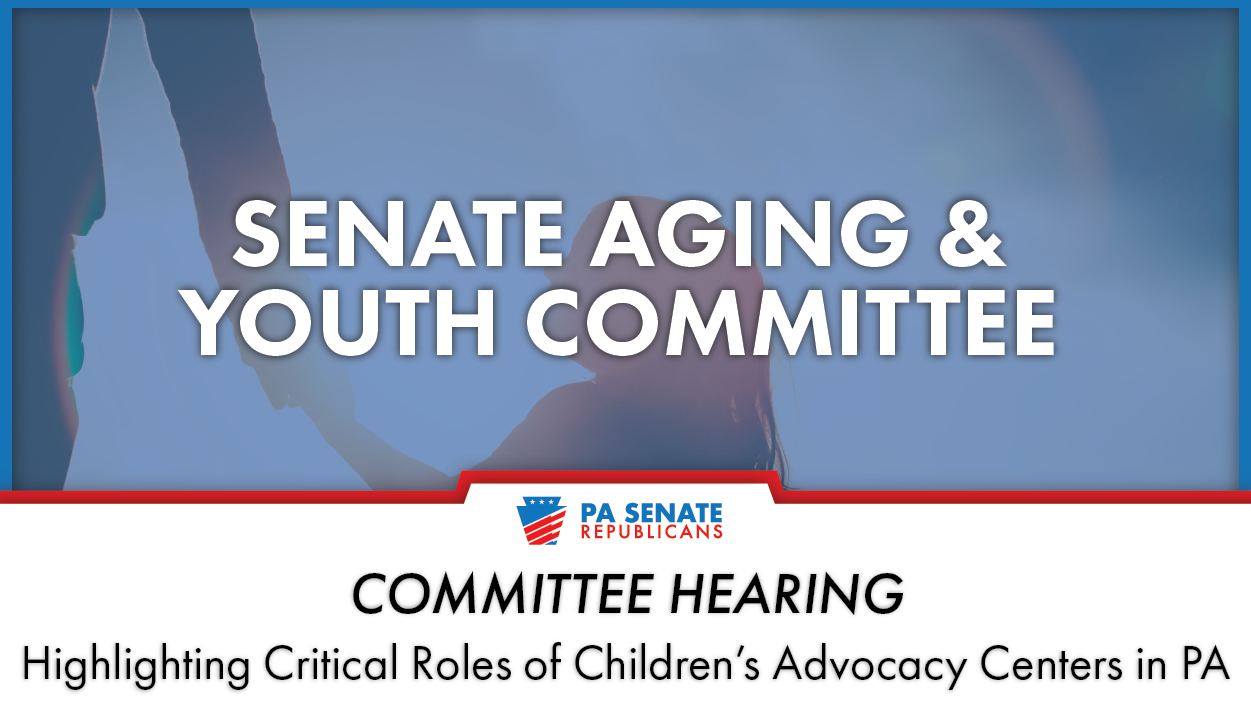 This week, the Senate Aging and Youth Committee held a hearing to gather information about the critical roles played by children's advocacy centers across Pennsylvania.
Children's advocacy centers (CACs) coordinate the investigation, treatment and prosecution of child abuse cases by utilizing teams of professionals involved in child protective and victim advocacy services, law enforcement and prosecution, and physical and mental health.
Without CACs, children who already had traumatic experiences – like sexual abuse – are revictimized when they are forced to repeatedly relive their horror by describing it separately for people representing county agencies, law enforcement and health care. At CACs, everyone gathers at one time in a way that is comfortable for the child.
Pennsylvania has 41 CACs, which provided services to 15,735 children in 2022. Types of cases include sexual abuse, physical abuse, child witness to violence, drug endangered children and others. Learn more about the hearing and access video here.
Discussing Traditional American Values with Garden Spot Village Resident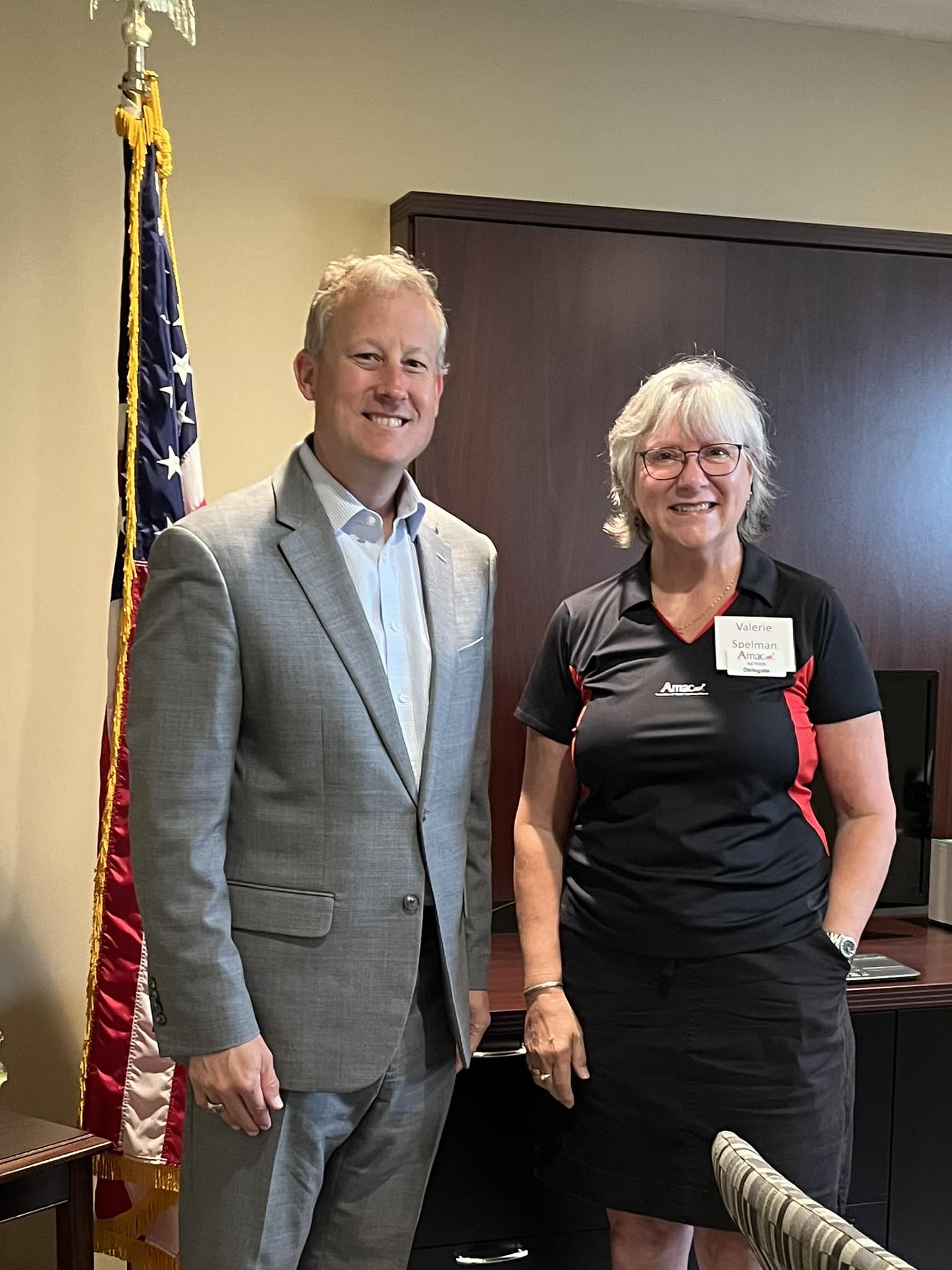 I enjoyed meeting with Garden Spot Village resident Valerie Spelman in Lititz recently. Valerie discussed her work with the Association of Mature American Citizens, which exists to protect and defend the sanctity of our constitution.
If you'd like to schedule a meeting with me about a state-related issue that's important to you, you can do so here.
Submit or Search for a Veteran Job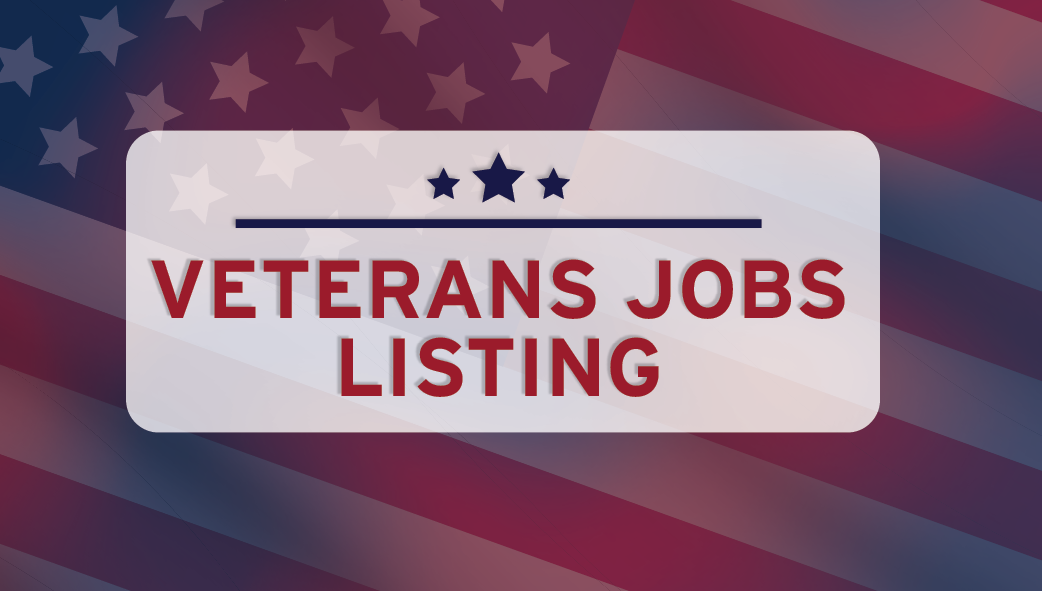 The Department of Military and Veterans Affairs offers a job listing as a service to individuals and organizations to promote their veteran and military-oriented events being held in Pennsylvania. It is a comprehensive resource for the state's more than 700,000 veterans as they consider new employment opportunities.
Submit a job or view the current listings – which include roles for nurses, police officers, recovery specialists and more – here.
Happy 100th Birthday to Elizabethtown Resident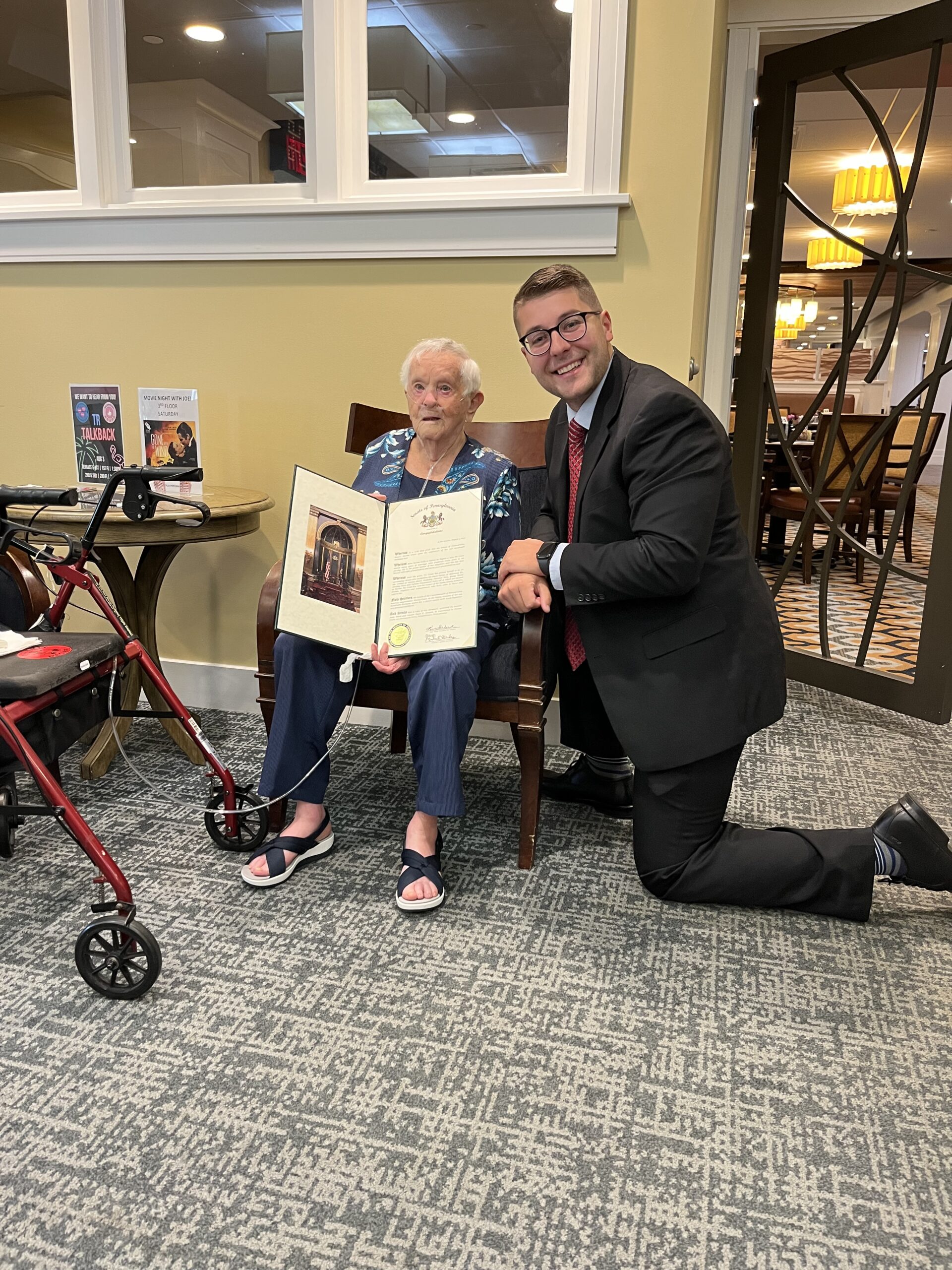 Happy belated 100th birthday to Elizabethtown resident, Norma Crain! She worked at various places in Tyrone, including Flavored Nuts, Young World Clothing Store, and TyPenn Department Store.
One of my staffers, who knows Norma well from his time working at Masonic Village where Norma resides, had the pleasure of visiting with Norma to present her with a Senate citation celebrating her birthday. Best wishes to Norma!
Save Your Child from Preventable Death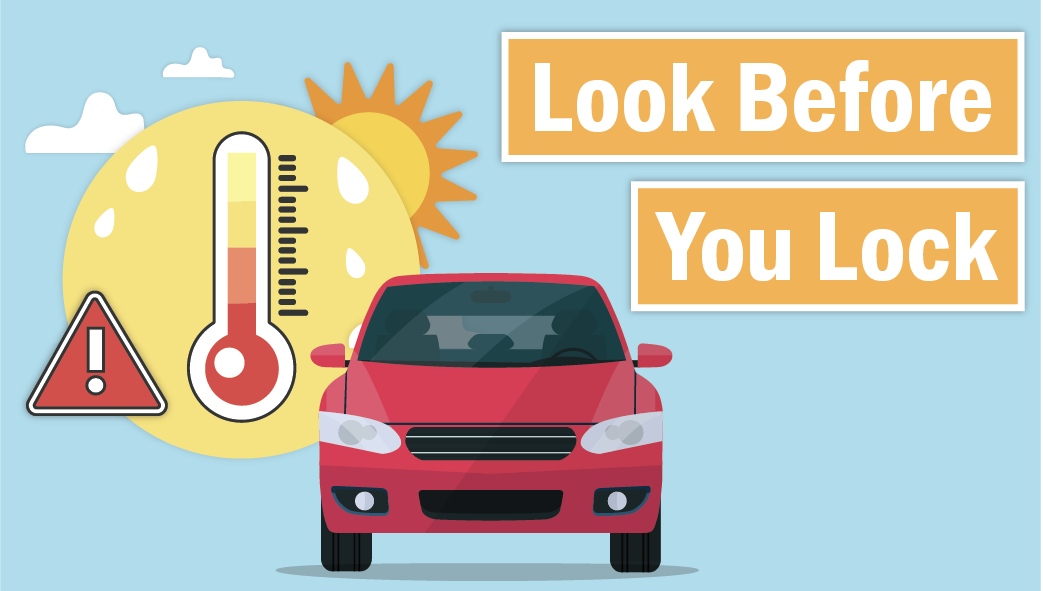 Since 1998, more than 900 children have died from vehicular heatstroke – a tragedy we never want to experience. Luckily, it is preventable.
The National Safety Council offers a free online course about the danger of vehicular heatstroke and children, the three primary circumstances that have led to children dying and what we can do to prevent these deaths.
Keep in mind that even on mild or cloudy days, temperatures inside vehicles can reach life-threatening levels. Leaving windows slightly open doesn't help, and children should never be left unattended or be able to get inside a vehicle. Learn more here.
Watch Out for Heat-Related Illnesses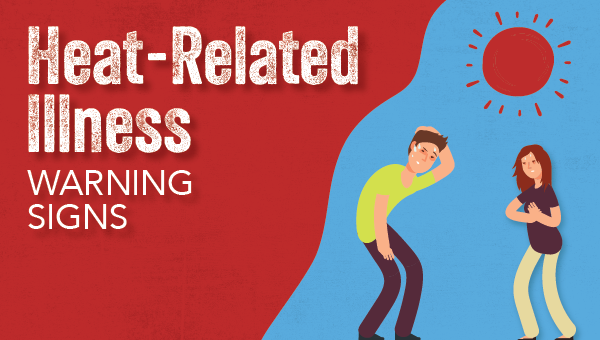 When it's extremely warm outside, there are several heat-related illnesses that can impact you and your loved ones. While many of us have experienced sunburn before, you should also be aware of heat stroke, heat exhaustion, heat cramps and heat rash.
In an effort to avoid these illnesses, stay hydrated and be careful with how long you're exposed to the heat – even if you're not in the sun.
Read more here about the signs of heat-related illnesses and what to do if you have one.
Smart Money Management Leads to Financial Independence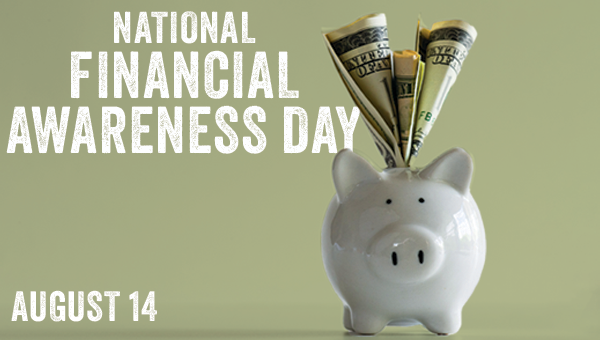 To become financially independent and create the foundation for a secure life, thoughtfully considering financial decisions and their implications is key.
Monday, Aug. 14, is National Financial Awareness Day, which reminds all of us to plan for a more financially successful future. Of course, in addition to a willingness to plan, we must also have the knowledge about positive versus negative money management practices.
Senate Republicans passed a bill to improve personal financial literacy by requiring completion of a high school course that would advise on basic money matters like credit and credit scores; savings and investments; and college, home and auto loans. By teaching high school students the basics, they will be able to make better decisions to position themselves for a lifetime of financial independence.
As you take an active role in managing your money, you may come up with a question, concern or complaint about Pennsylvania financial institutions, services or products. Call the Pennsylvania Department of Banking and Securities at 1-800-722-2657 or fill out the online complaint form here.
Searching for High School Students to Keep PA Clean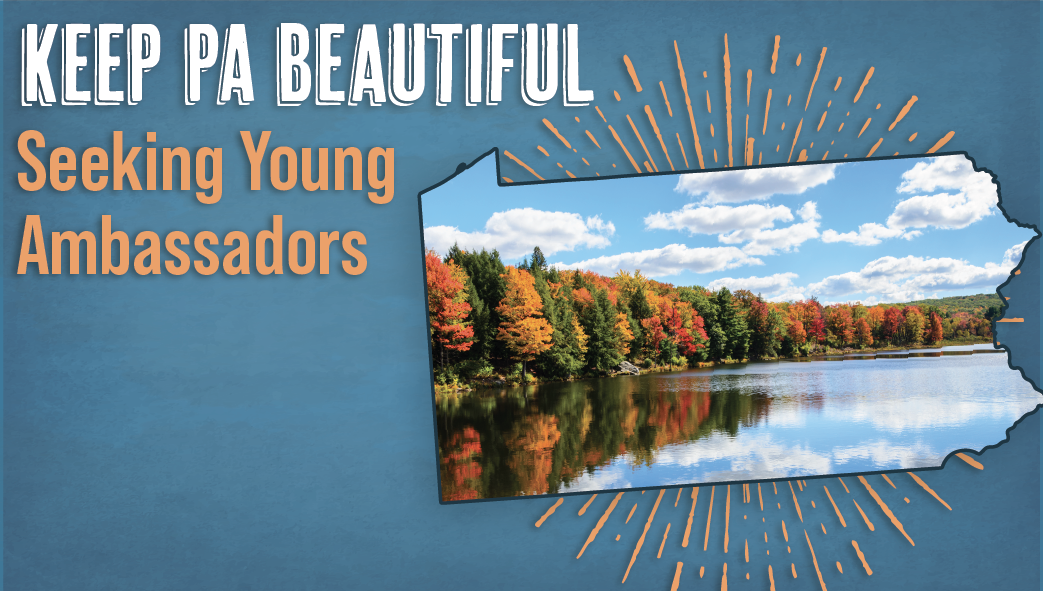 The Pennsylvania Department of Transportation and Keep Pennsylvania Beautiful are inviting 10th -12th grade students from around the state to help keep Pennsylvania clean and beautiful through the Young Ambassadors program.
The program provides opportunities for high school students to train and network with industry leaders, state agencies, local media and the Keep Pennsylvania Beautiful network to increase leadership and problem-solving skills.
Learn more about ambassadors' responsibilities and apply for the program by Sept. 14 here.
If you are not already subscribed to this newsletter please sign up here.