In this Update:
Senate Hearing in Lancaster Explores the Impact of the PA Workforce Shortage
Legislative Review: Pandemic Response
Aument Supports Expanding Concealed Carry Rights for Law-Abiding Citizens
Voter ID Supported by 74% of Pennsylvanians
Pennsylvania Needs a Long-Term Vision for Education
Aument Speaks at Ribbon-Cutting Ceremony for Christian Pulisic Soccer Center
DMVA: Important to Safeguard DD-214 Military Paperwork
Unclaimed Property Waiting for PA Residents
Senate Passes Kayden's Law to Protect Children during Custody Disputes
Plenty of PA Trip Ideas Available
---
Senate Hearing in Lancaster Explores Impact of the PA Workforce Shortage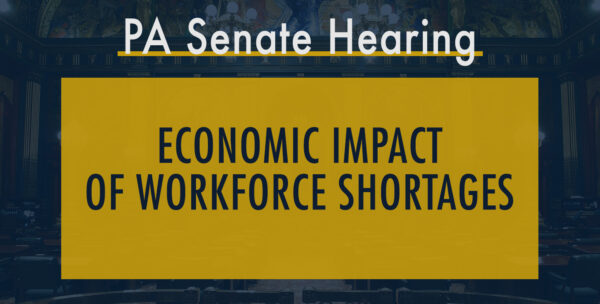 The economic impact of the workforce shortage facing Pennsylvania employers was the topic of a public hearing Wednesday by the Senate Community, Economic and Recreational Development Committee held at the Lancaster County Chamber of Commerce.
Pennsylvania is facing a serious workforce crisis that is threatening our employers and slowing our economic recovery. Businesses across the Commonwealth have been forced to curtail their hours of operation or even close because of a workforce shortage.
Small businesses in Lancaster County and across this Commonwealth have already suffered immensely due to the restrictions and forced closures they had to endure throughout the pandemic, and now the workforce shortage threatens to delay their recovery even further. I believe that anything that we as elected officials can do to help employers and employees get back on track and move our state's economy forward is worthwhile.
The panel heard from the PA Chamber of Business and Industry, local employers and the PA Restaurant and Lodging Association in order to fully identify the employers' needs and the role the General Assembly can play in creating an environment for economic growth and job creation.
Learn more about the hearing here.
Legislative Review: Pandemic Response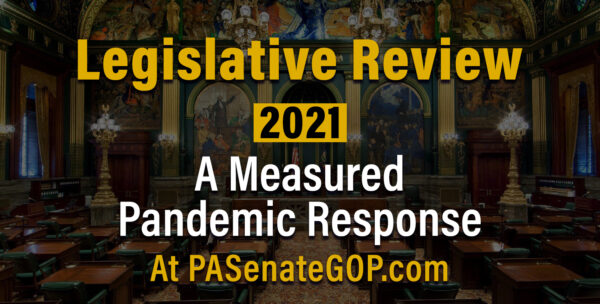 When Pennsylvania voters chose overwhelmingly this year to amend the state Constitution and limit the length of a governor's unchecked emergency powers, they were weighing in on ballot questions created through Senate legislation.
Other measures passed by the Senate this year to safely respond to the COVID-19 pandemic include:
Act 1 of 2021 amending the state Fiscal Code to allocate $569.8 million for Rental and Utility Assistance, $197 million for education programs, and $145 million to support Pennsylvania's struggling restaurants and taverns as they cope with the devastation created by the COVID-19 pandemic and the governor's mandated closings and restrictions.
Act 21 of 2021 ensuring all waivers previously effective under the COVID-19 emergency will remain in effect until Sept. 30, 2021, unless sooner terminated by the authority which initially authorized the waiver.
Act 67 of 2021 allowing family members to safely visit long-term care facilities during a pandemic as essential caregivers.
Senate Resolution 90 extending the emergency temporary rules adopted to maintain continuity of operations of the Senate during the COVID-19 disaster emergency.
House Resolution 106 terminating the pandemic emergency declaration and ending the governor's power to close employers, limit occupancy, suspend state statutes or issue stay-at-home orders due to COVID-19.
You can find a full list of bills of note passed by the Senate in 2021 here.
Aument Supports Expanding Concealed Carry Rights for Law-Abiding Citizens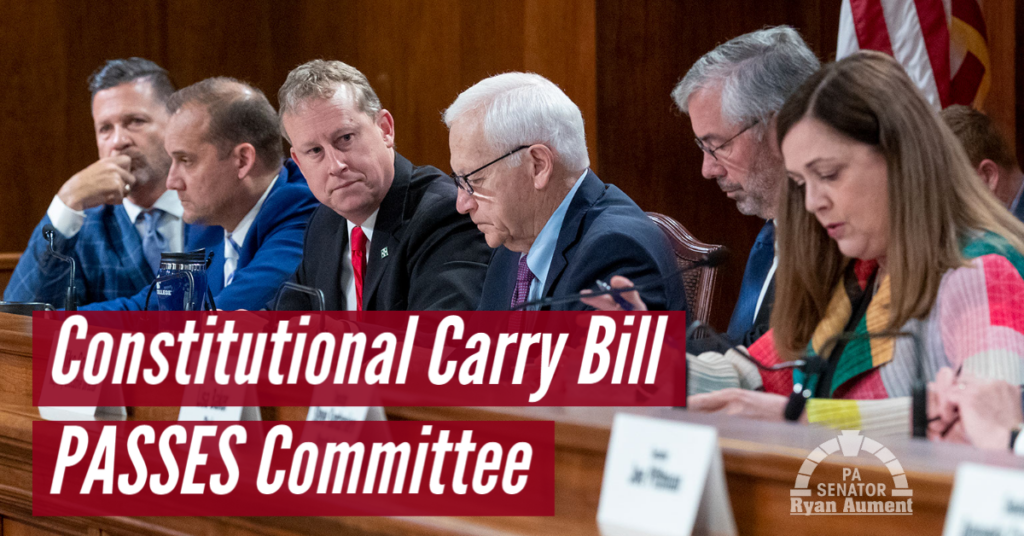 As a member of the Senate Judiciary Committee, I joined my colleagues last month to vote in favor of a bill I co-sponsored that would create a two-tiered system for the concealed carrying of firearms for lawful purposes in Pennsylvania.
Under Senate Bill 565, the first level would no longer require law-abiding citizens to obtain a permit to carry a firearm concealed in Pennsylvania. Citizens who pass a criminal background check to purchase a new firearm are the least likely to commit an offense with a firearm, so there's no need for additional regulations simply because they prefer to conceal their weapon.
The second level would allow citizens to obtain an optional License to Carry a Firearm (LTCF) permit that is valid throughout the state and other states that have a reciprocity agreement with the Commonwealth. Currently, 32 other states recognize Pennsylvania's LTCF.
The bill does not eliminate background checks or change any of the statutes surrounding the lawful purchase of firearms. It would, however, defend the rights of Commonwealth citizens who follow the law and wish to carry a firearm.
Having received committee support, Senate Bill 565 now moves to the full Senate for consideration.
Voter ID Supported by 74% of Pennsylvanians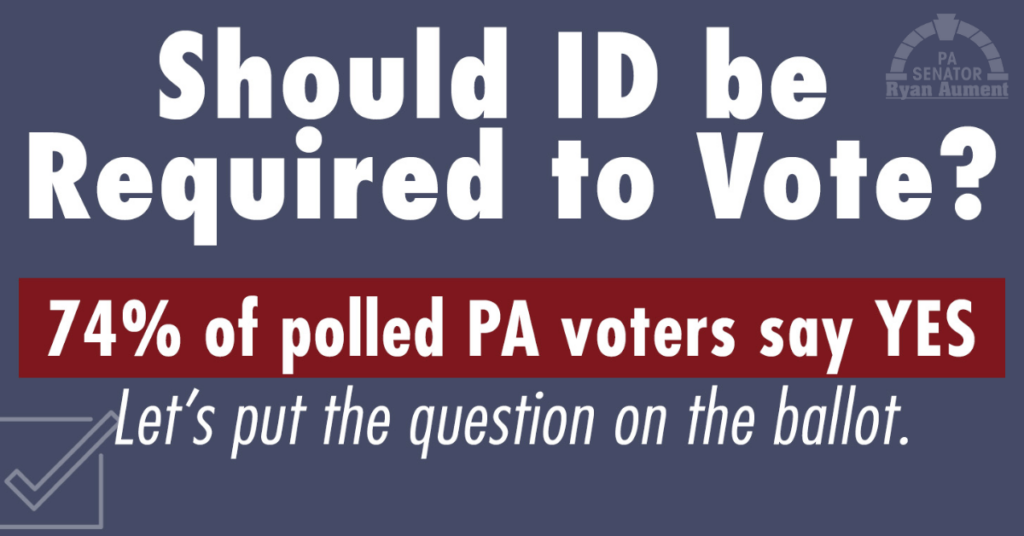 Last month, the Pennsylvania Senate approved Senate Bill 735 to allow voters to decide if the Pennsylvania Constitution should be amended to require identification each time a voter casts a ballot. I have consistently supported voter ID proposals throughout my time in the General Assembly, and I was pleased to again vote in favor of this constitutional amendment to provide for voter ID last month.
Voter ID is widely supported by Pennsylvanians of both political parties. A recent poll by Franklin & Marshall College found 74% of Pennsylvanians who responded favored requirements that all voters show a photo ID, compared with 25% opposed. Nationally, that number climbs to 80% in support of some sort of identification to vote and 18% opposed, according to a Monmouth University poll.
Election integrity and security is a top priority of mine, and Voter ID is one way that we can ensure that every legal voter has the opportunity to cast their ballot with confidence in the security of our election system.
Pennsylvania Needs a Long-Term Vision for Education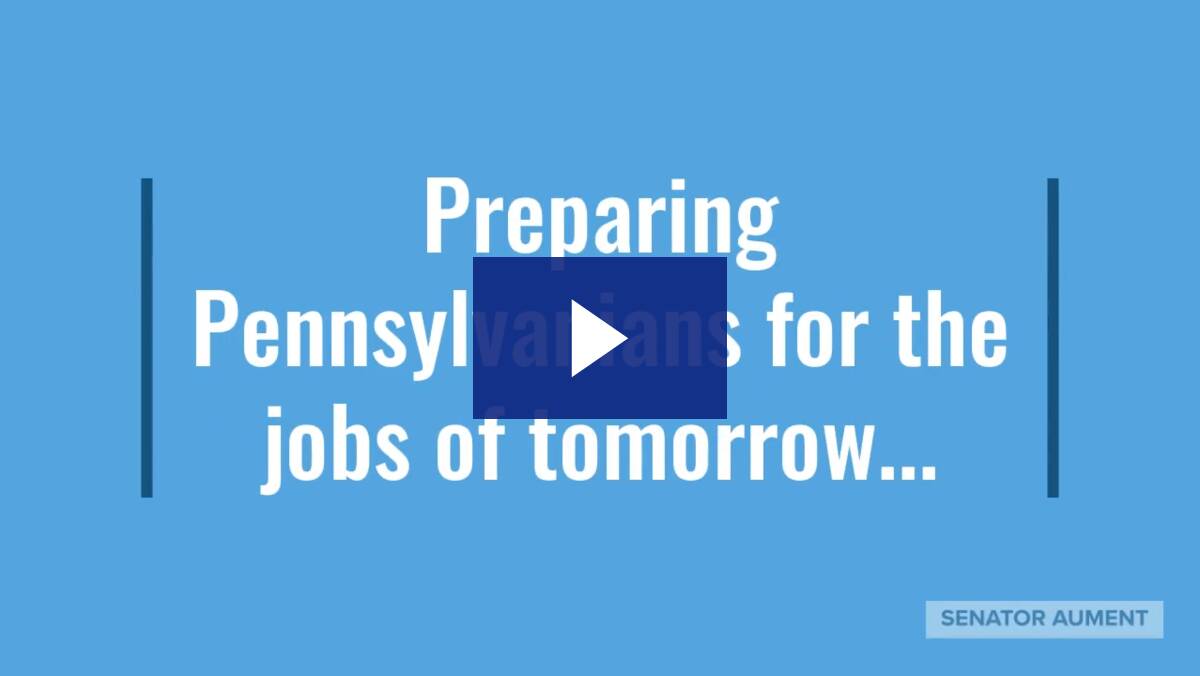 In order to better prepare Pennsylvanians for the jobs of tomorrow, I have proposed Senate Resolution 144 to establish a 2030 Commission to recommend ways that we can redesign our education system to better meet the needs of the future workforce.
Pennsylvania's education system was designed for a bygone era and is no longer adequately preparing students well for today, let alone tomorrow. This problem is not caused by our teachers, our students, or our parents, but rather it is the result of an outdated system. Fixing the problem will require restructuring this antiquated system with a more resilient, adaptable, and future-ready approach.
The Pennsylvania Department of Labor and Industry estimates that the fastest growing sectors in the Commonwealth in the next decade will include health care, education, computing, and finance. My proposal seeks to ensure that Pennsylvanians are ready and able to fill these and other family-sustaining jobs critical to an economically competitive future by aligning the skills taught by our education system with the needs of these rising industries.
Learn more about my proposal to create a long-term vision for Pennsylvania's education system here.
Aument Speaks at Ribbon-Cutting Ceremony for Christian Pulisic Soccer Center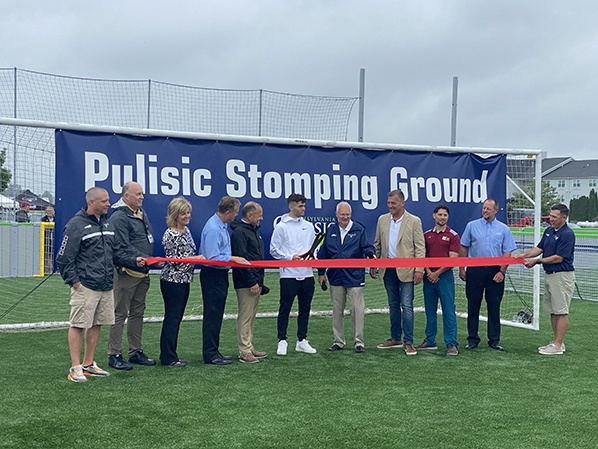 Last month, I had the pleasure to attend the grand opening of the Pulisic Stomping Ground, a new soccer training and development center, in Manheim.
The namesake of the project, Christian Pulisic, is a central Pennsylvania native hailing from Hershey, Pennsylvania who is widely known as an international soccer star, playing for the USA National Soccer team and with Chelsea FC in the English Premier League. He's widely regarded as the best men's soccer player to ever come out of the United States. Christian graciously provided the resources for the Pulisic Stomping Ground.
I have no doubt that this training center will attract and create talent, putting Manheim on the map as a hub for high-quality soccer skill development. For that, I am grateful for the time, effort, and resources that the team at Pulisic Stomping Ground has poured into constructing and launching this training center. Their hard work and dedication to the Manheim community and to the game of soccer is commendable, and I look forward to seeing all the great things they will accomplish through the Pulisic Stomping Ground soccer training and development center.
DMVA: Important to Safeguard DD-214 Military Paperwork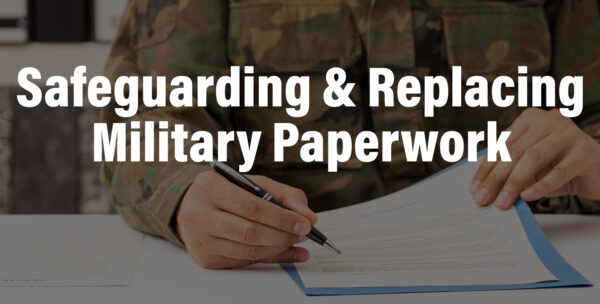 The Pennsylvania Department of Military and Veterans Affairs urges veterans to safeguard their DD-214. For veterans who have lost this important document, or family members who cannot locate it on a veteran's behalf, the DMVA can assist in retrieving an official copy.
The DD-214 is issued by the U.S. Department of Defense upon a military servicemember's retirement, separation or discharge from active duty. It contains information needed to verify military service for benefits, retirement, employment and membership in veterans' organizations. Without this key document, there could be a big delay when veterans seek benefits earned through their service to our nation.
The DMVA can also assist with locating the DD-215, which is used to correct errors or make additions to a DD-214, helping to assure that veterans have accurate discharge documentation.
Anyone needing assistance from the DMVA to locate their DD-214/215, or other military documentation, can call toll-free 1-800-547-2838 or email RA-REQ@pa.gov. More information about locating military documents can be found by visiting the Records Request Program.
Unclaimed Property Waiting for PA Residents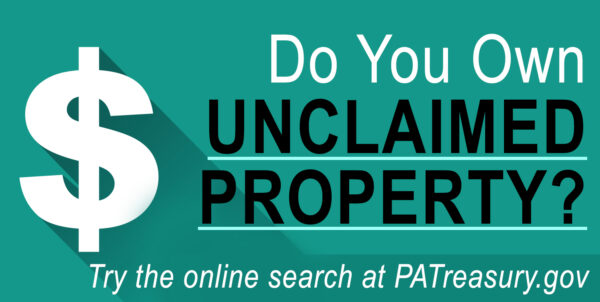 Millions in unclaimed property is secured in the Pennsylvania Treasury vault. An updated website has been launched to help residents look for and retrieve their unclaimed property.
Dormant accounts from financial institutions and other entities must be reported to the PA Treasury by April 15 each year. The vault includes tangibles such as jewelry, coins, collector cards and war medals previously abandoned in safe deposit boxes. In fact, one in 10 state residents have unclaimed property waiting for them.
Whether your search yields enough for a latte or a steak dinner or more, take a few minutes to enter into the Treasury's database your name and the name of family members. For additional assistance, you may contact the Bureau of Unclaimed Property at tupmail@patreasury.gov for assistance with claims OR report@patreasury.gov for holders inquiring about unclaimed property.
If you would prefer assistance by phone, you may also contact my District Office in Lititz to have one of my staff members walk you through the process at 717-627-0036.
Senate Passes Kayden's Law to Protect Children during Custody Disputes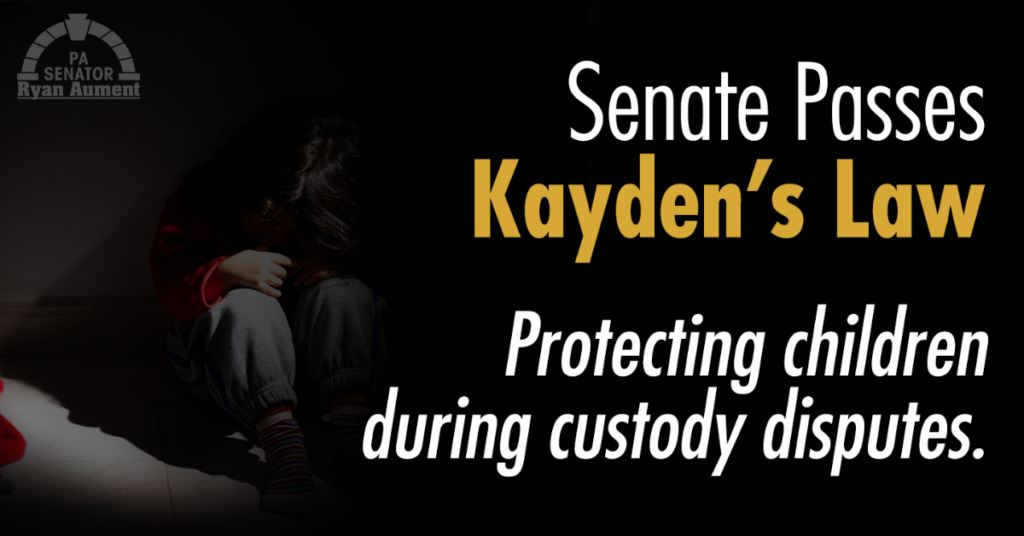 The Senate approved and sent to the House of Representatives legislation known as Kayden's Law to increase protections for children during child custody disputes.
The legislation is named after Kayden Mancuso, a 7-year-old Bucks County resident murdered by her biological father in 2018 during a visit ordered by the court, despite evidence of his abusive and violent behavior.
The bill imposes safety conditions and restrictions on visitation in cases of abuse, modifies the factors that a judge must consider in making a custody award to put the focus on the health and safety of the child, and recommends better training of all court personnel involved in custody cases.
Plenty of PA Trip Ideas Available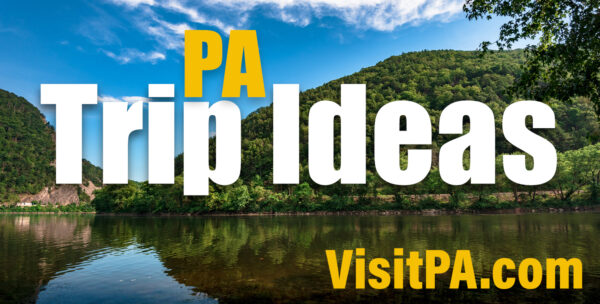 There's plenty of summer left and plenty of ideas for getting away in our beautiful Commonwealth.
VisitPA.com can help you find day trips and more to lakes and beaches, experience hiking and camping, sample city life or explore our rich history.
Resources are available to help you plan your trip. You can also order a Happy Traveler Guide or view it online.