Thank you for subscribing to my E-newsletter. I am honored to serve the 36th Senatorial District and look forward to working with you toward building a stronger Pennsylvania. This E-newsletter serves to keep you updated on what is happening throughout  Lancaster County and what I am doing as your State Senator in Harrisburg – I hope that you find it helpful! Should you have any questions, comments, or concerns, please DO NOT reply to this email; instead, please feel free to contact me here.
In this Update:
Student Opportunities for Success Examined by Senate Committee
Riding Along with Lancaster EMS
PA State Universities Hold the Line on Tuition
Best Wishes to Retiring Police Chief After 44 Years of Service
REAL ID Extension Allows Access Through May 2025
Happy 100th Birthday to Residents of the 36th District!
Helping Senate Interns Network
Free Help Available to PA Small Businesses
Observing World Day Against Trafficking in Persons
Connecting PA Veterans with the Benefits They Earned
---
Student Opportunities for Success Examined by Senate Committee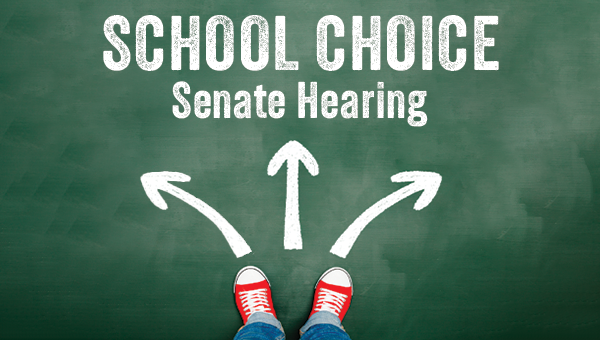 Parents and advocates said they need expanded learning opportunities during a public hearing of the Senate Education Committee.
The version of the 2023-24 state budget, approved by a bipartisan majority in the Senate, contains $100 million to fund the PASS (Pennsylvania Award for Student Success) Program, which would provide low-income students in low-performing schools with scholarships to attend the school of their choice. Gov. Josh Shapiro has threatened to line-item veto this funding after previously voicing support for the program.
Funding the PASS Program would empower parents and families in the education of their children and would not take a single dollar away from public schools. The state budget passed by the Senate also includes a $567 million increase in basic education funding.
Riding Along with Lancaster EMS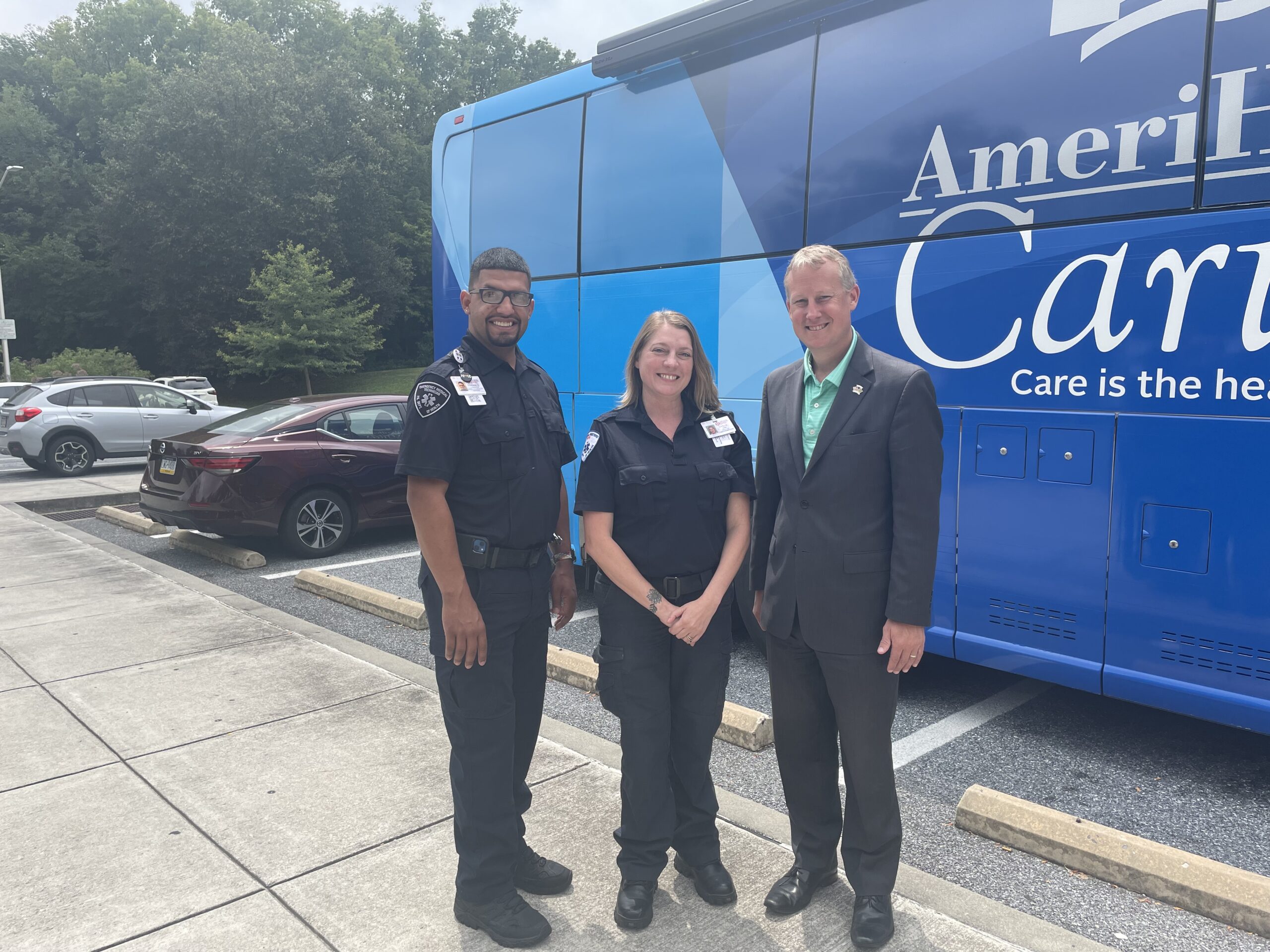 I visited Lancaster EMS to learn more about its Community Paramedicine Program. Learn more about some of the services the program provides here.
Lancaster EMS Community Paramedicine providers typically meet with patients one on one to review hospital discharge instructions, medication changes, and social determinants of health to prevent hospital readmissions, connect patients to primary care, and overcome barriers. These visits are usually an hour and consist of a review of discharge instructions, a medication reconciliation, several assessments, and referrals to appropriate medical providers or community resources.
I then stopped by the Lancaster Rec Center where they were holding a lead screening event.
Finally, I visited the Refresh Lancaster mobile hygiene unit at the Food Hub on North Queen Street. Lancaster County MyHome partnered with Lancaster EMS on Refresh Lancaster.
I am grateful for the innovative work Lancaster EMS is doing to meet the health needs of Lancaster County residents. View more photos from this event on my Instagram page here.
PA State Universities Hold the Line on Tuition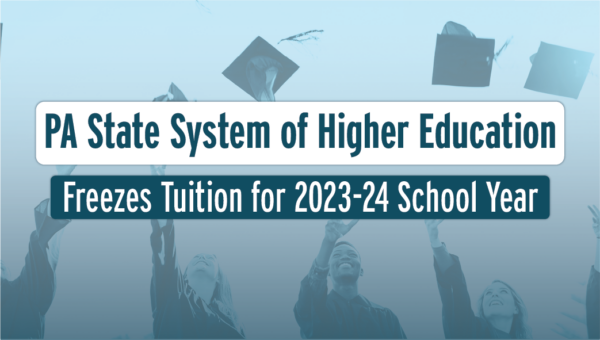 The Pennsylvania State System of Higher Education (PASSHE) board of governors voted to freeze tuition for the fifth consecutive year, a decision made possible by the financial support provided in state budgets passed by the General Assembly.
The budget passed by the House and Senate would provide an increase of $33 million, or 6%, to PASSHE universities. Offering Pennsylvanians education empowerment and access has been and will continue to be a Senate Republican priority.
The cost for students, had it kept pace with inflation since 2018, would be 21% higher today. In addition to keeping in-state undergraduate tuition at $7,716 for the sixth year, PASSHE students will receive $125 million in university-funded financial aid to help them afford their education.
Best Wishes to Retiring Police Chief After 44 Years of Service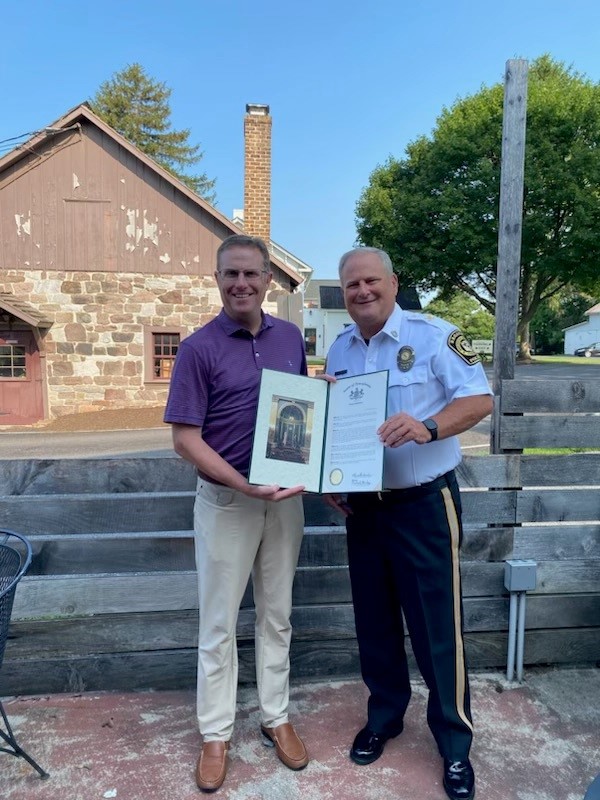 Congratulations to Northern Lancaster County Regional Police Chief David Steffen upon his retirement after 44 years of dedicated service to our communities! Under his leadership, the department became a Pennsylvania Law Enforcement Accredited agency and was lauded as the first department in the county to implement body-worn cameras for all sworn officers.
Best wishes to Chief Steffen on a well-deserved retirement.
Also, congratulations to Lt. Joshua Kilgore of the department, who will begin his service as police chief when Chief Steffen retires on Aug. 4.
REAL ID Extension Allows Access Through May 2025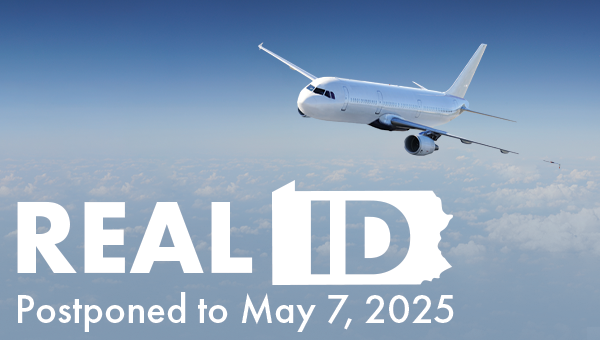 Pennsylvania residents will be able to use their current driver license to access federal facilities through May 7, 2025, under an extension granted by the federal government last week.
REAL ID is a federal law that affects how states issue driver's licenses and ID cards if they are going to be acceptable for federal purposes, such as boarding a domestic commercial flight, or entering a military installation or federal facility that requires ID.
REAL ID-compliant driver licenses and identification cards are available now to consumers who wish to obtain them. Learn more, including whether you need a REAL ID and what information you must provide if you do, here.
Happy 100th Birthday to Residents of the 36th District!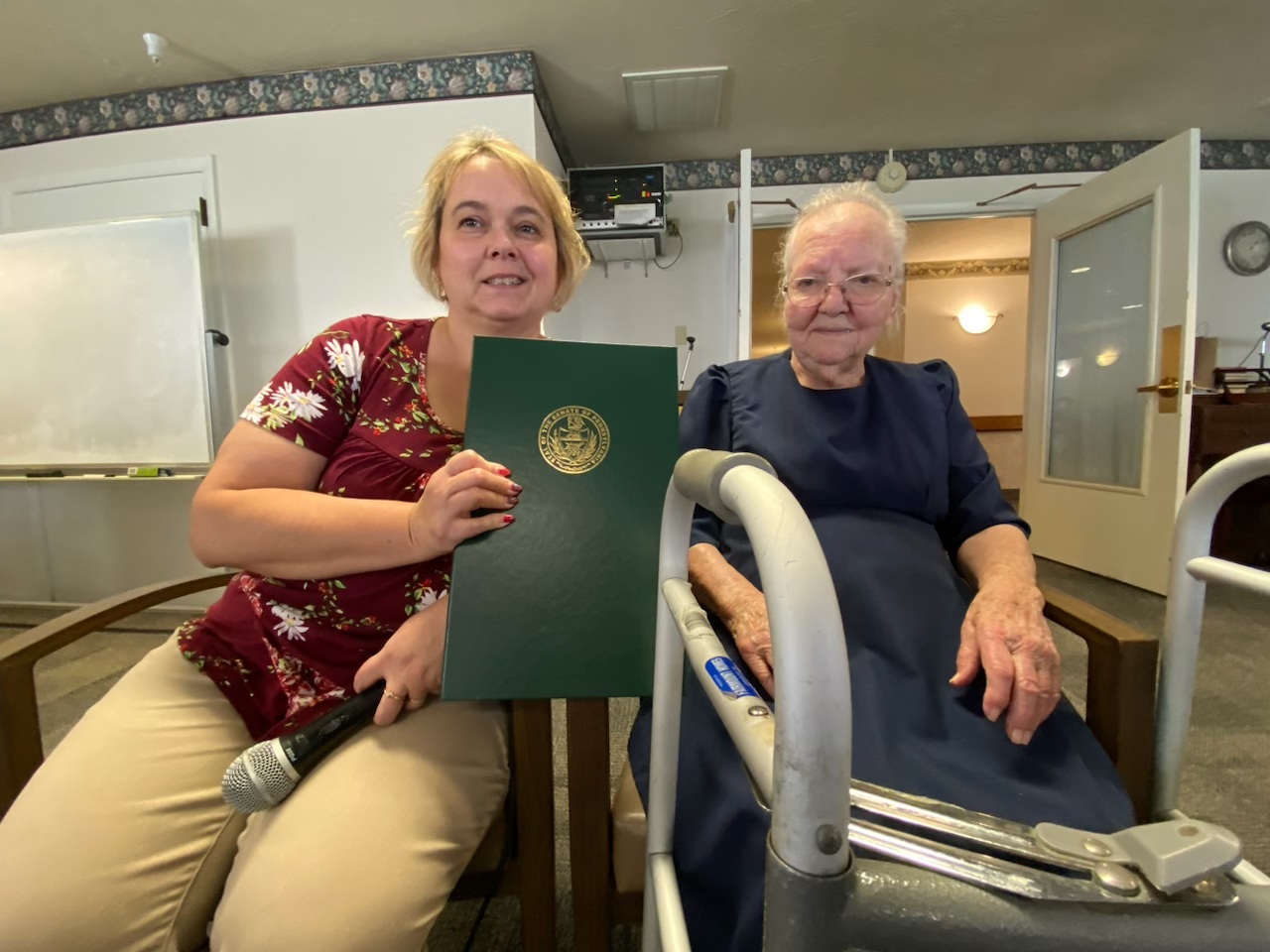 Happy belated 100th birthday to Ephrata resident Elsie Martin! Ms. Martin was formerly employed at Spring Glen Foods. She enjoyed piecing and quilting and volunteered her time and talents at Fairmount Homes for more than three decades.
She was the beloved wife of Paul Martin for 47 years prior to his passing and is the proud mother of four children. Best wishes to Elsie!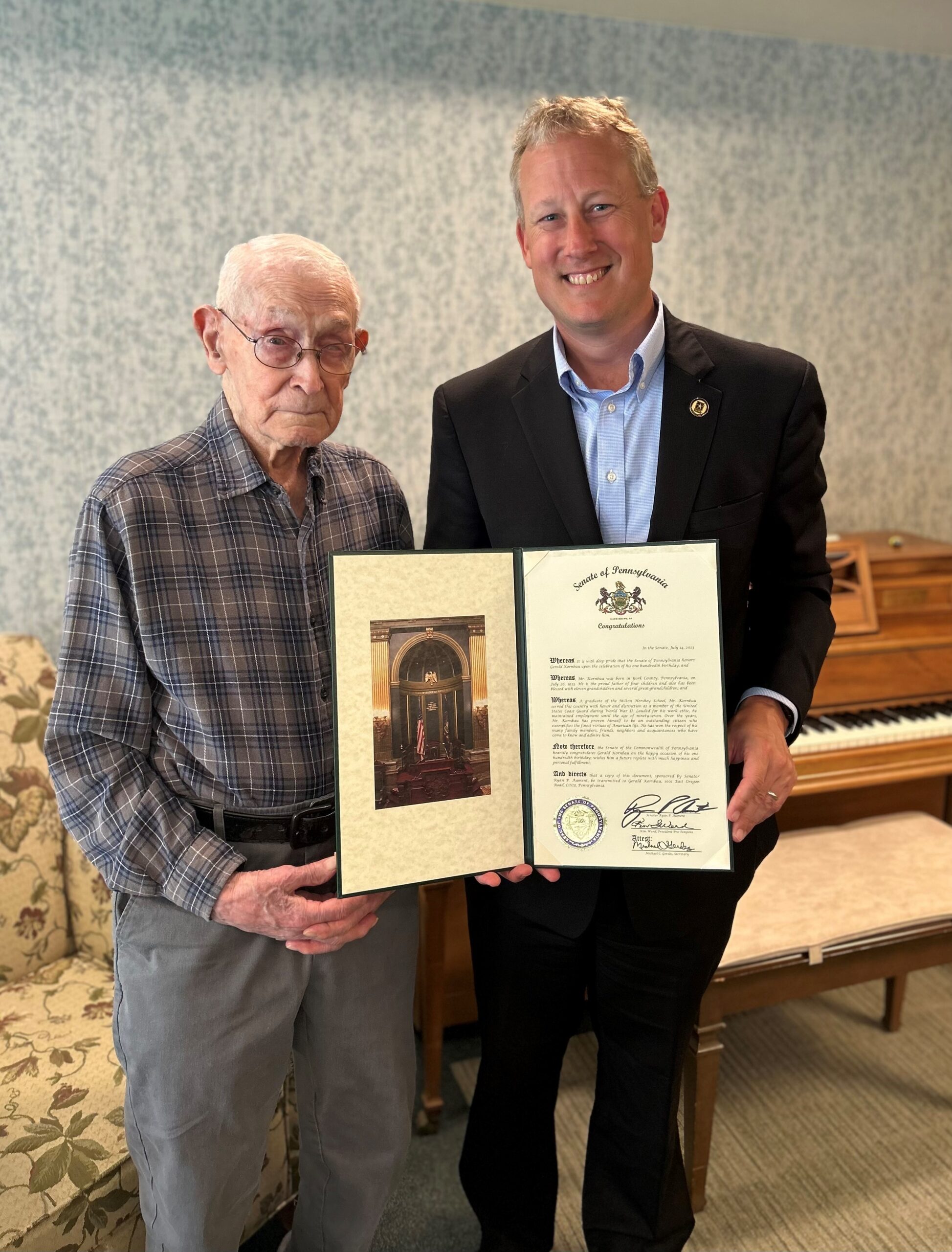 On Wednesday, Gerald Kornbau of Lititz turned 100. He graduated from Milton Hershey School and served our country as a member of the United States Coast Guard during World War II. Impressively, he was employed until he was 97.
He has four children, 11 grandchildren, and several great-grandchildren. Happy 100th birthday, Gerald!
Helping Senate Interns Network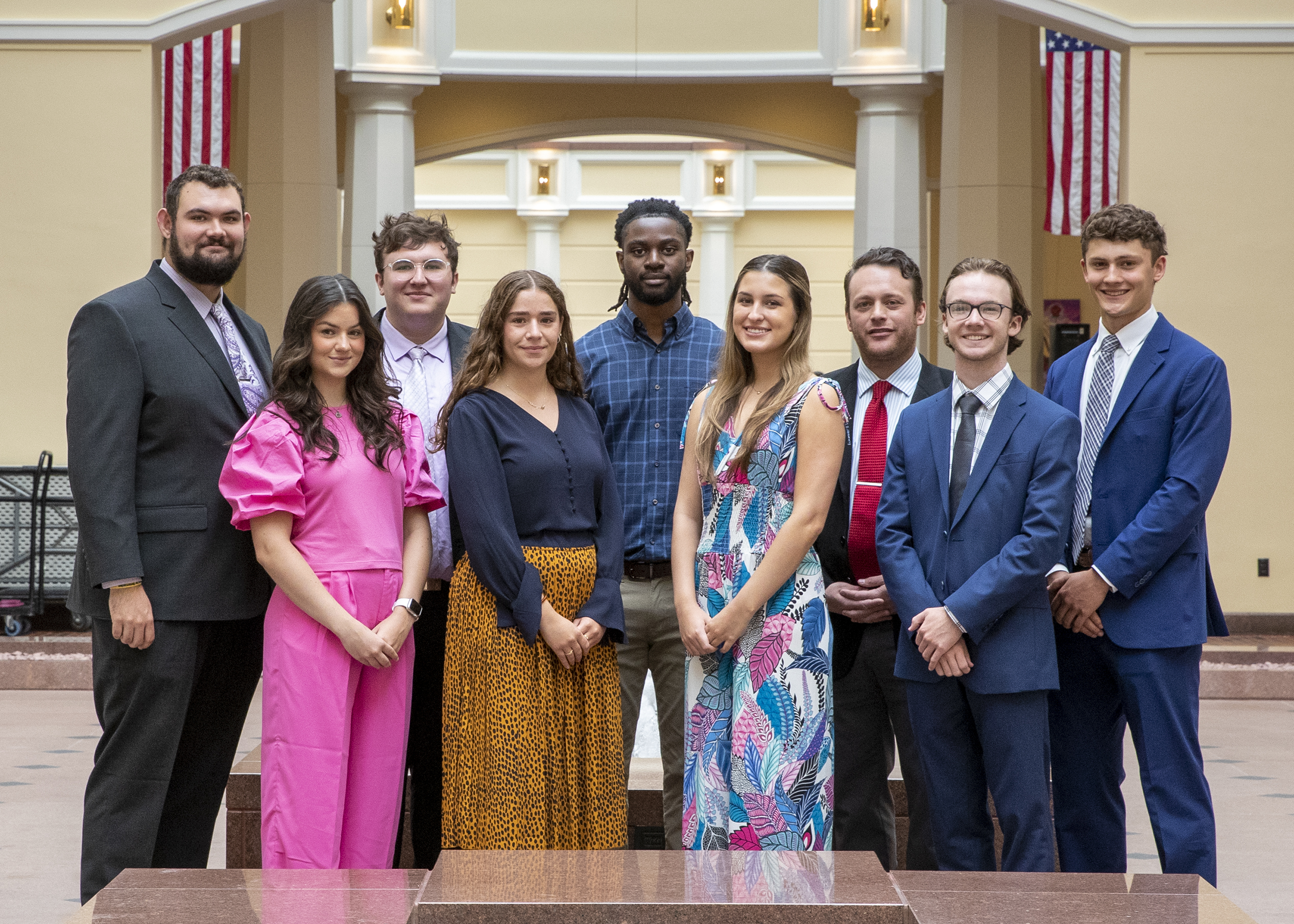 My office hosted a bipartisan intern breakfast last month for all of the Senate's interns to meet, chat, and network with current Senate staffers, many of whom also began as interns.
Free Help Available to PA Small Businesses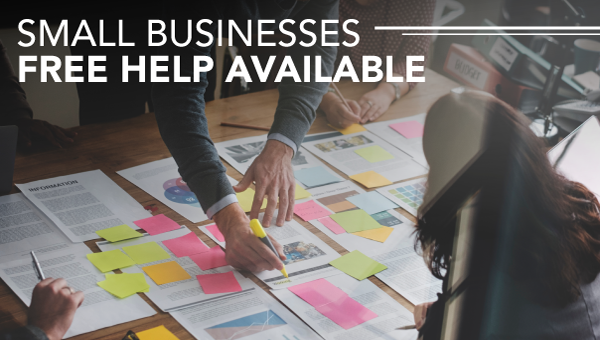 There are 15 Small Business Development Centers in Pennsylvania that provide free, confidential consulting and low-cost training to small businesses across the state. Trainings cover a range of business issues including testing a new business proposition, shaping a business plan, investing funding opportunities and more.
Whether you have an idea for a new business, want to improve your existing business or would like to buy or sell a business in Pennsylvania, experienced business consultants are available to help you. Read more here.
Observing World Day Against Trafficking in Persons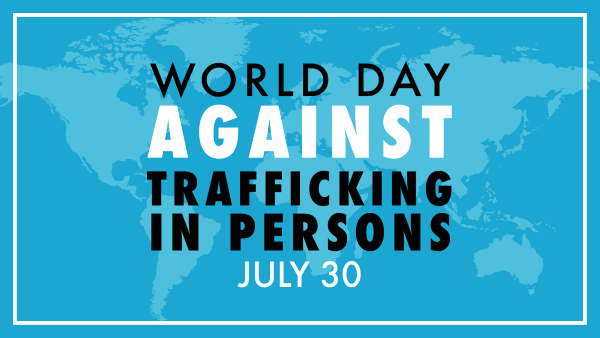 Sunday, July 30, is World Day Against Trafficking in Persons. By observing this solemn day, we hope to raise awareness of this disturbing exploitation and how to spot trafficking in action. If you suspect human trafficking, please call the National Human Trafficking Hotline at 1-888-373-7888 or the ChildLine at 1-800-932-0313.
The Senate unanimously voted to help child human trafficking victims by granting them full access to appropriate services and support. Tragically, under current Pennsylvania law, any minor who is exploited for commercial sex must identify their third-party perpetrator to be considered a victim of human trafficking, unless their purchaser is charged as a trafficker.
Senate Bill 44 would ensure that third-party control is never a consideration for access to services, and Senate Bill 45 would eliminate the third-party control requirement to access victim services under the National Human Trafficking Resource Center Hotline Notification Act.
Connecting PA Veterans with the Benefits They Earned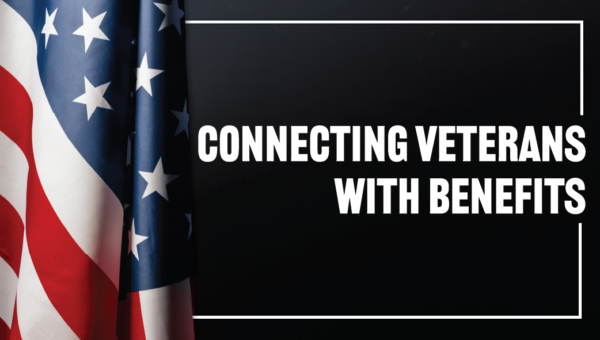 Ensuring Pennsylvania's 700,000 veterans get all of the benefits they have earned is an important mission of the Department of Military and Veterans Affairs (DMVA) and state lawmakers.
Veterans are encouraged to sign up for the DMVA's Veterans Registry to get timely information about state benefits, programs and services.
DMVA also offers two Mobile Veterans Outreach Vans that travel the state to give veterans one-on-one assistance so they can learn about and apply for the benefits they have earned. Each van is staffed with accredited veterans service officers and is wheelchair accessible. Learn more about the vans and schedule one for a community event here.