Thank you for subscribing to my E-newsletter. I am honored to serve the 36th Senatorial District and look forward to working with you toward building a stronger Pennsylvania. This E-newsletter serves to keep you updated on what is happening throughout  Lancaster County and what I am doing as your State Senator in Harrisburg – I hope that you find it helpful! Should you have any questions, comments, or concerns, please DO NOT reply to this email; instead, please feel free to contact me here.
In this Update:
Work Continues on a New State Budget
We Must Do Something About Student Loan Debt
Bill to Expand College, Job Training Opportunities Passes Senate
Introducing a Student to Our State Government
Senate Works to Reunite Missing Children with Their Families
Recognizing the Service of a Local Educator
Thanks to Kegel's Produce for 75 Years of Fresh Produce
Preventing Overdoses and Easing Strain on EMS Providers
New Preserved Farmlands in Lancaster County
Recognizing 100th Birthdays
---
Work Continues on a New State Budget
This week, our work continues to complete a state budget for the 2023-24 fiscal year. Budget priorities include:
Supporting family-sustaining, good-paying jobs.
Lowering energy costs.
Avoiding tax increases.
Providing education opportunities to all children.
Helping seniors with rising costs.
Improving roads and bridges.
This effort requires a serious approach. We are focused on putting the right plan in place for PA families and taxpayers and ensuring that it is sustainable for this year and in the future.
We Must Do Something About Student Loan Debt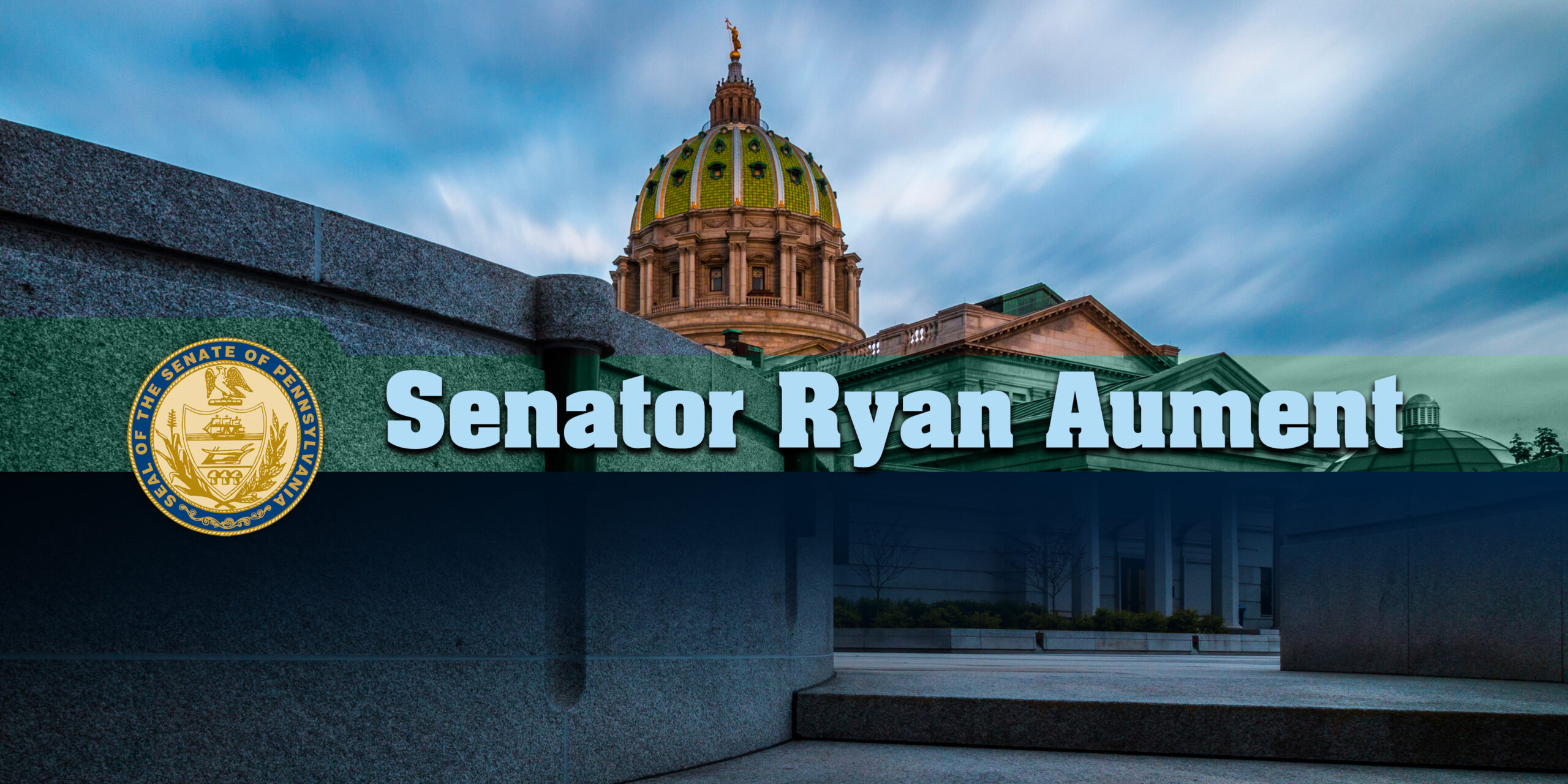 I applaud the Supreme Court of the United States' ruling to strike down President Biden's student loan forgiveness proposal – but I also believe we must have a plan to address the student loan debt crisis and protect taxpayers. While this ruling is a win for taxpayers, there are still millions of Americans with trillions of dollars in outstanding student loans who now need to find a way to pay back that debt.
While I agree with taxpayers who are celebrating the court's decision to block total loan forgiveness, I also recognize that we have a serious problem that we cannot ignore. We must do something about the student loan debt crisis. We must fix the flaws in a system that's no longer serving students – but preying on them instead. And we must do so without forcing taxpayers to repay a debt that isn't theirs.
I oppose blanket student loan forgiveness like what President Biden proposed. But I also refuse to pretend like this crisis isn't unfairly bankrupting generations of Americans. There is a reasonable middle ground. We can and should take steps to help students in a way that emphasizes personal responsibility, accountability, and protects taxpayers. We should also reconsider how we fund institutions of higher education, and work with stakeholders to establish a performance-based funding model for these institutions.
Finally, I've proposed legislation that will allow borrowers to repay their debt under more manageable terms – without asking taxpayers to pick up the tab. Read my full statement here.
Bill to Expand College, Job Training Opportunities Passes Senate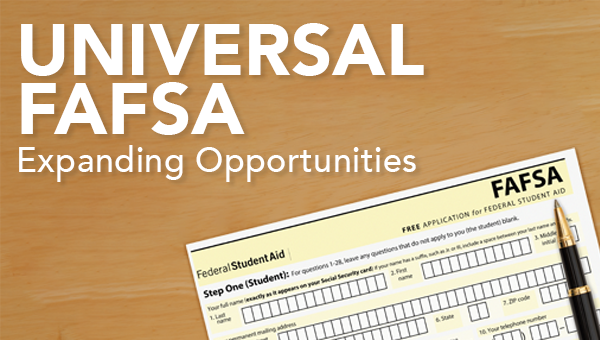 Each year, billions in available student financial aid goes unclaimed. This week, the Senate approved a bill to help more state residents make informed decisions about pursuing college and job training programs.
Senate Bill 750 would require high school seniors to complete the Free Application for Federal Student Aid (FAFSA), which determines eligibility for federal, state and school financial aid programs. Families who choose not to complete the application could opt out on a form provided to parents or guardians.
This important measure will help to train more young Pennsylvanians for family-sustaining careers that will anchor them in the commonwealth. When they put their roots down here, our state will benefit economically and attract more employers drawn by the skilled workforce. It furthers the Senate Republican priority of empowering Pennsylvania families through education empowerment and access.
Introducing a Student to Our State Government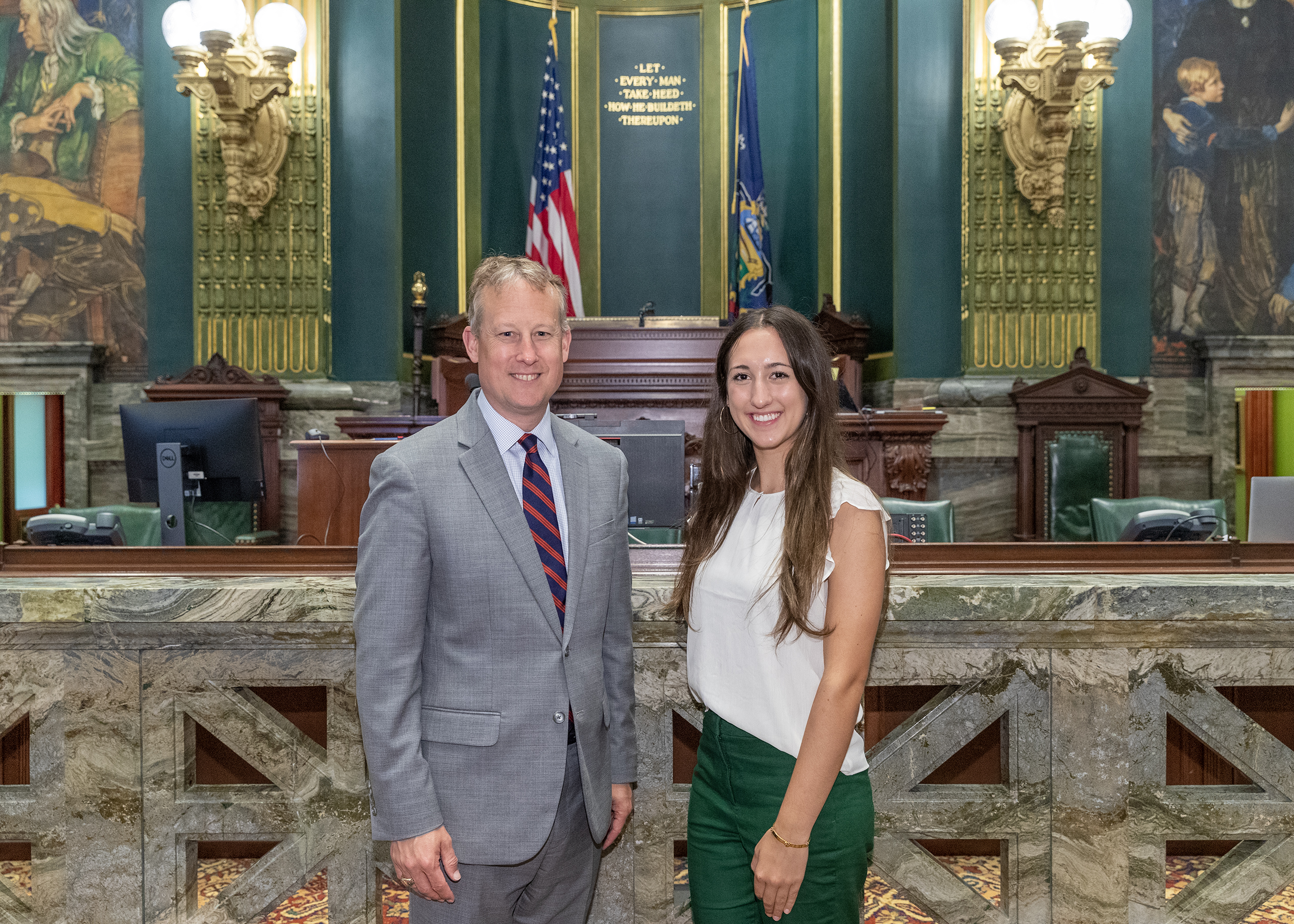 Josie Huyard, a rising senior at Dayspring Christian Academy, recently shadowed me for the day to experience a typical day at the State Capitol. Josie is active in student government, plays on the varsity tennis team, and completed a marketing internship – all while maintaining a 4.0 GPA. It was a pleasure to host Josie!
Senate Works to Reunite Missing Children with Their Families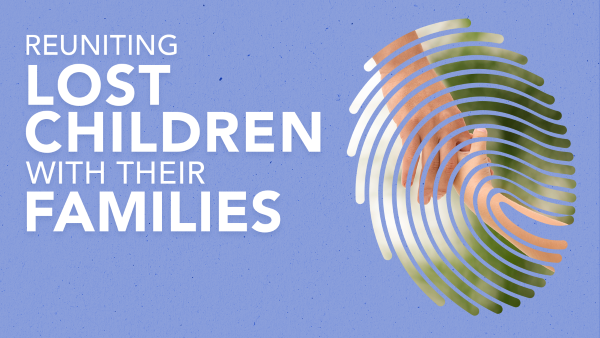 The Senate approved the Child Reunification Act to provide parents and law enforcement with a new tool to help identify and return missing children.
Senate Bill 460 would provide parents and guardians with free identification kits that include fingerprinting materials, DNA collection swabs and other information to help identify the child in case of an emergency.
The bill would require school districts to distribute the kits to all first graders at no cost to parents. To protect the personal information of children and families, the information would be stored securely by parents and would not be entered into any state or national database.
Recognizing the Service of a Local Educator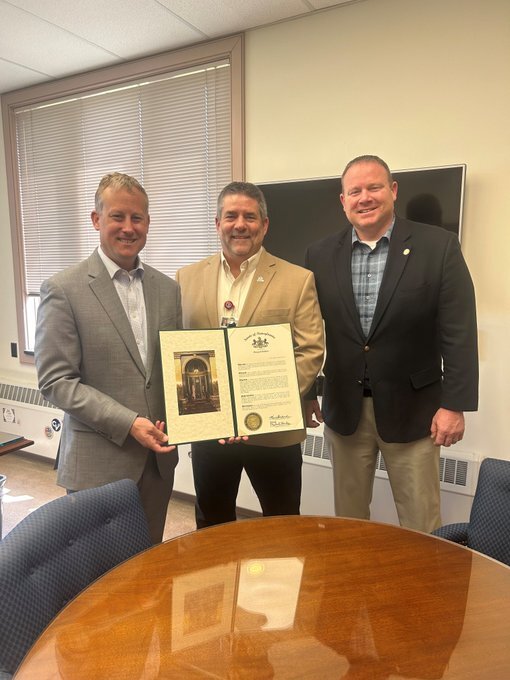 Congratulations to Superintendent Dave Zuilkoski upon his retirement from Conestoga Valley School District after 27 years of dedicated service to our students and communities. During his career in education, he was also a mathematics teacher, principal, and assistant superintendent.
Sen. Scott Martin and I presented Dave with an official Senate of Pennsylvania citation to commemorate this momentous occasion.
Thanks to Kegel's Produce for 75 Years of Fresh Produce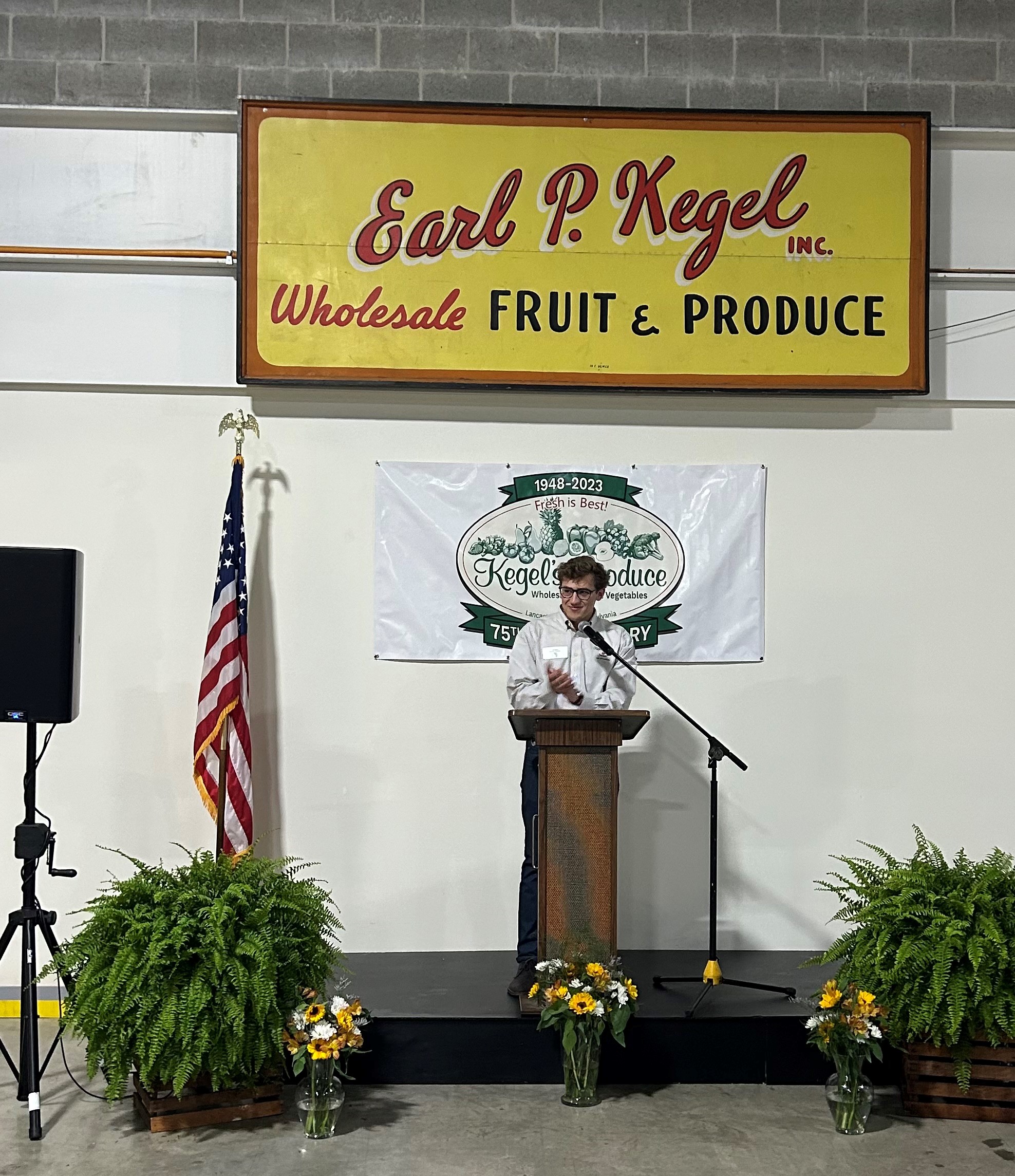 Congratulations to Kegel's Produce on its 75th anniversary. Kegel's was established in 1948 when Earl P. Kegel began distributing produce to stands at Central Market and local grocery stores. Here's to 75 more years of bringing fresh, local produce to Lancaster County communities!
Preventing Overdoses and Easing Strain on EMS Providers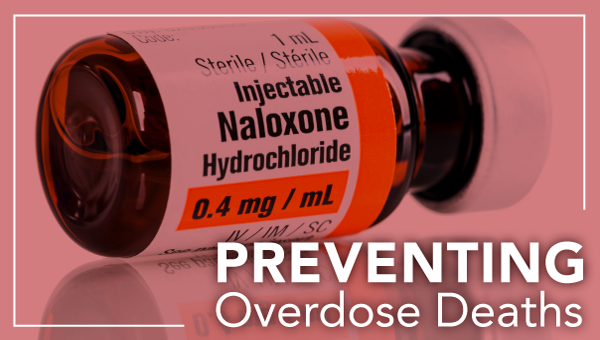 Legislation to allow Emergency Medical Service (EMS) providers responding to drug overdoses to leave a life-saving drug with caregivers received Senate support.
Senate Bill 81 would permit EMS providers to leave a dose of life-saving naloxone, or Narcan, with the on-scene caregiver of a patient who overdosed on opioids and was revived by the emergency medical technician. It would ease the strain on EMS providers by limiting repeat visits.
The U.S. Food and Drug Administration recently approved naloxone nasal spray for over-the-counter use, with the change going into effect later this summer. Senate Bill 81 would expedite the timeline within Pennsylvania. It would also allow other versions of naloxone, which are still under review for over-the-counter sales, to be distributed by EMS providers.
Another measure to ease the strain on EMS providers, Senate Resolution 120, calls for a study on the dollar amount EMS providers are losing when they aren't paid for their services.
EMS providers are not reimbursed for the treatment they provide Medicaid patients unless the patient is transported to the hospital or treatment facilities. As a result, the increased number of overdose response calls without transport hurts our EMS providers, which are already struggling financially.
New Preserved Farmlands in Lancaster County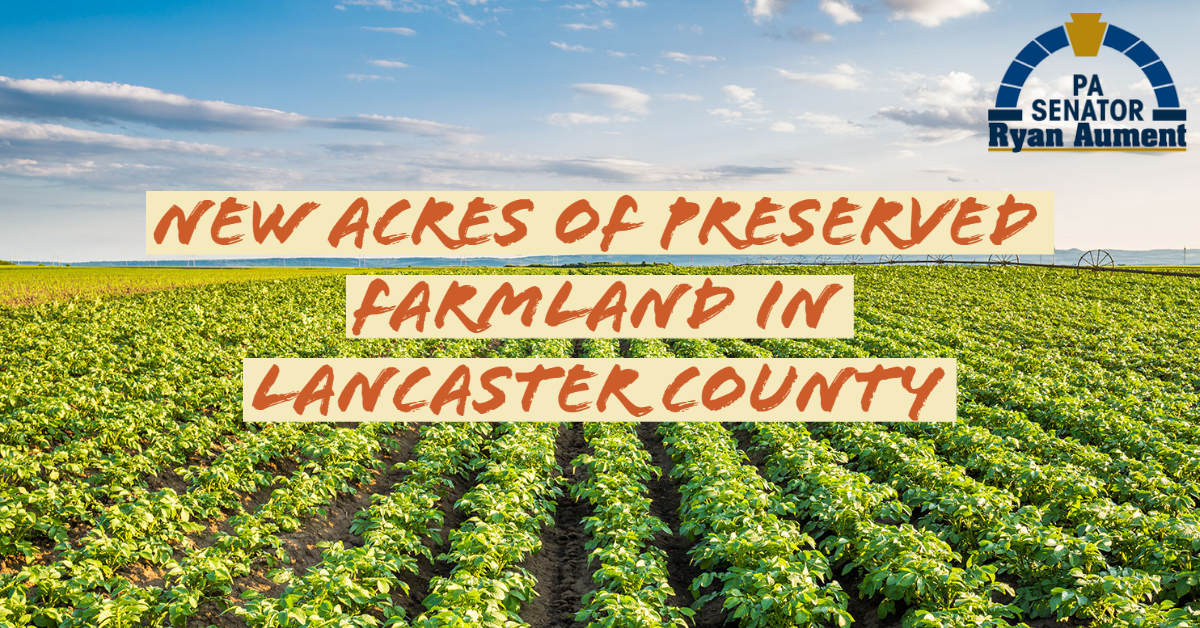 The State Agricultural Land Preservation Board announced the protection of 2,044 acres of farmland spanning 29 farms and 15 counties from future development. By selling their land's development rights, landowners ensure that their farm will remain in production and never be sold for residential, commercial, or industrial development. Pennsylvania has now protected 6,231 farms and 626,321 acres from development.
Locally, Martha and Chris Riehl's 19-acre crop operation has been preserved.
Recognizing 100
th

Birthdays

On June 17, Ms. Betty Baker celebrated her 100th birthday. She was married to the Rev. Donald Baker for 63 years prior to his passing and is the proud mother of four children. She played the piano and organ and helped with the children's ministries at several Free Methodist Churches where her husband pastored. She recently wrote an autobiography. Congratulations to Ms. Baker on this momentous achievement!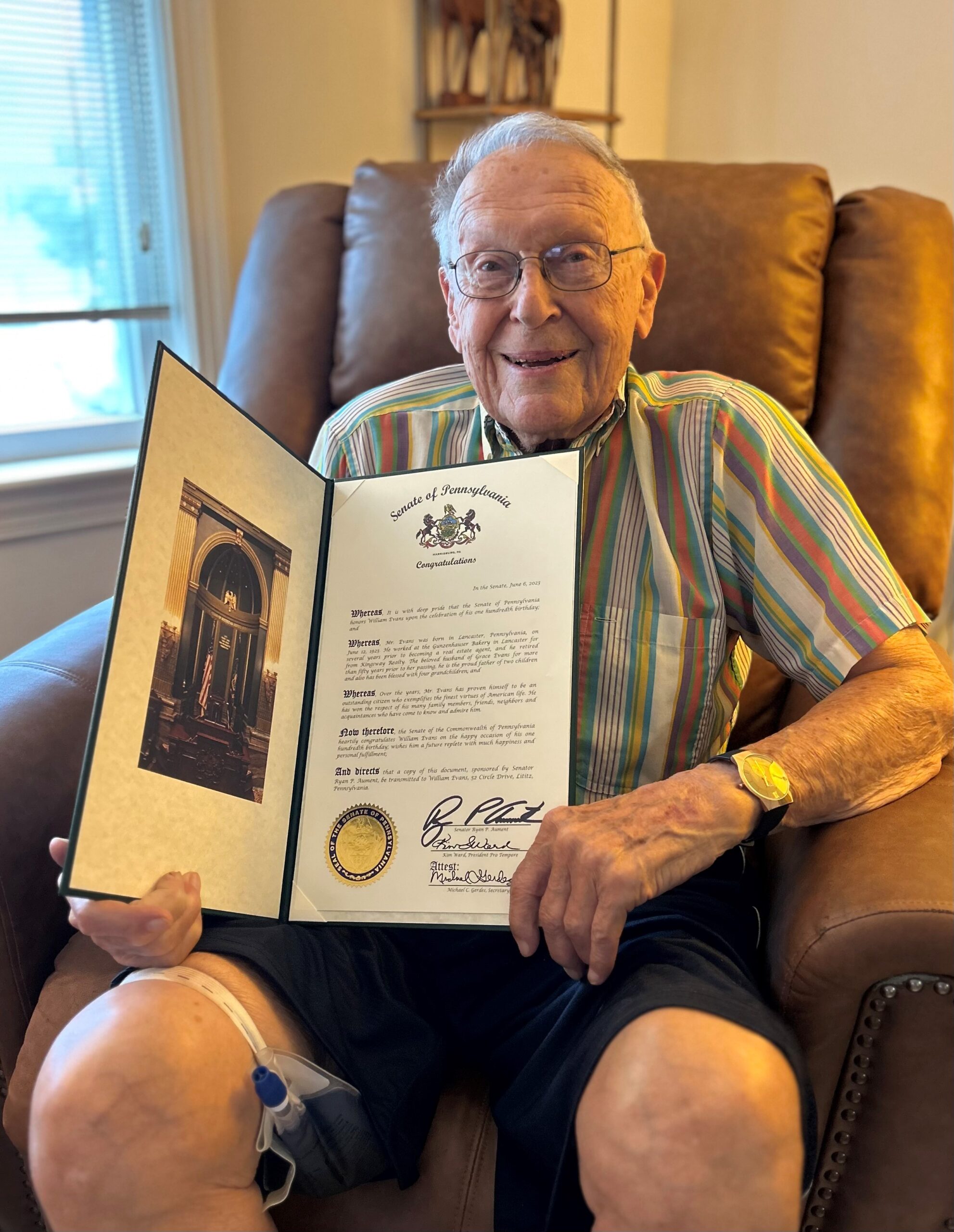 Happy belated 100th birthday to Lititz resident, William Evans! Mr. Evans worked at the Gunzenhauser Bakery in Lancaster for several years prior to becoming a real estate agent and eventually retired from Kingsway Realty. Congrats to Mr. William Evans!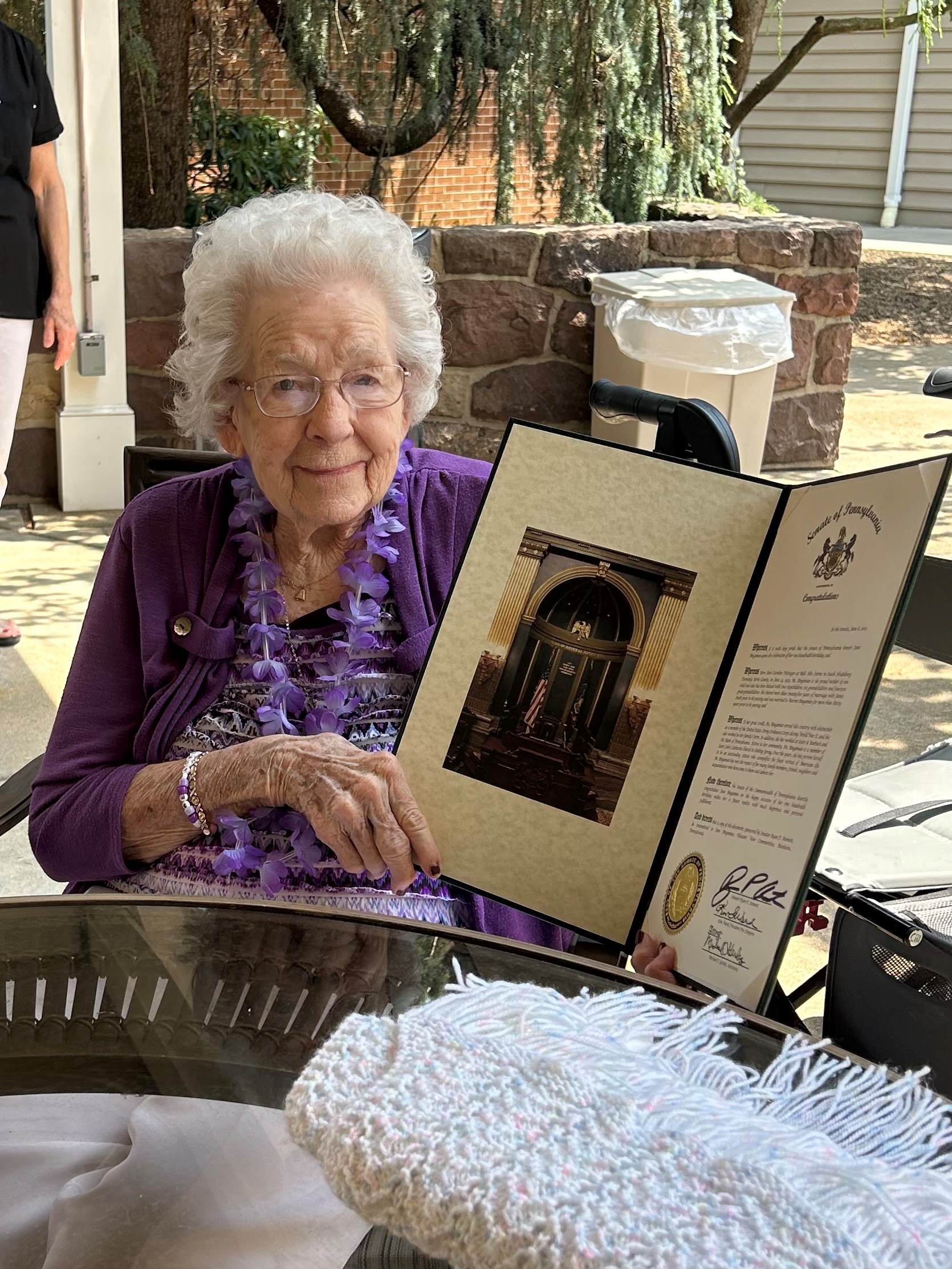 Happy belated 100th birthday to Manheim resident, June Bingaman! Ms. Bingaman served this country with distinction as a member of the U.S. Army Ordnance Corps during WWII, and she also worked on her family's farm. Congrats to Ms. June Bingaman on this happy occasion!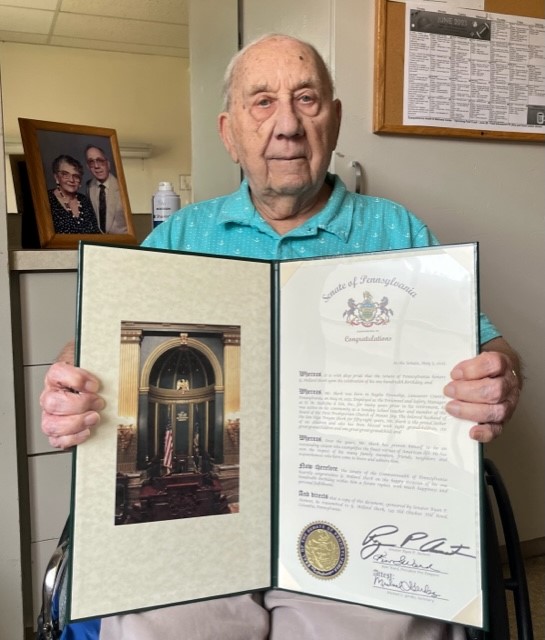 Last month, Columbia resident G. Millard Sherk celebrated his 100th birthday! Mr. Sherk worked as a safety manager at D. M. Stoltzfus & Son, Inc. for many years and was also active in his community as a Sunday School teacher and church board member. Happy 100th birthday!