April 13, 2018

Fair Judicial Districts Legislation Proposed
Pennsylvania's three appellate courts – the Commonwealth Court, Superior Court and Supreme Court – have a tremendous impact on the people of our state. I recently proposed legislation that would help guarantee that these judicial bodies are made up of candidates from all regions of the state.
My legislation would divide the Commonwealth into nine Commonwealth Court districts, fifteen Superior Court districts, and seven Supreme Court districts. The districts would be created following the redistricting principles in the Pennsylvania Constitution, as well as federal law governing free and fair elections. This approach would ensure that the diversity of Pennsylvania and the uniqueness of its various regions would be more accurately reflected in the election of appellate judges.
The current system results in most of the state's population being underrepresented on the appellate courts. Currently, more than half of all members of the Superior Court and Commonwealth Court hail from just two counties. Only 15 of Pennsylvania's 67 counties are home to an appellate court judge.
More information about the fair judicial district legislation is available here.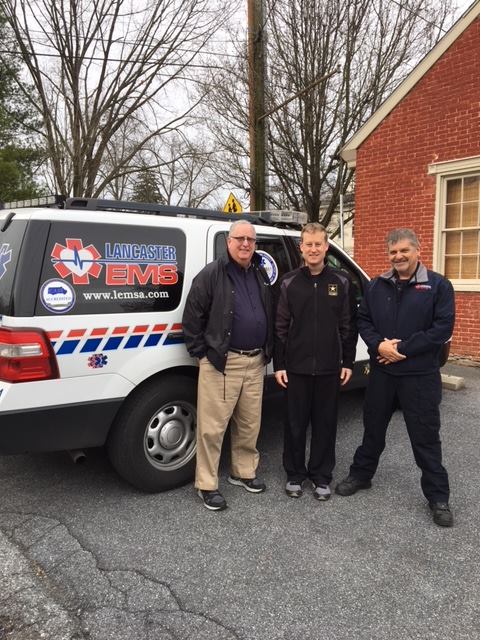 I appreciated the chance to ride along with Millersville Mayor Dick Moriarty and Lancaster EMS Shift Supervisor Captain Joe Carr.
Legislation Would Streamline Vocational Teacher Certification Requirements
There is a growing demand for skilled trades in communities of all sizes across the state. This increase in demand makes it critical for Pennsylvania to attract and retain the best vocational education teachers. I recently introduced legislation that would streamline the licensing system for Career and Technical Education (CTE) teachers so we can keep the best and brightest teachers here in Pennsylvania.
In current practice, vocational teachers are required by the state to earn at least 78 credits over a period of 11 years in order to comply with license requirements. These requirements include many classes that are irrelevant to the subjects the teacher will cover in the classroom.
Some of these unnecessary licensing requirements only push the most qualified teachers away to other parts of the country. My legislation would reduce the number of credits required for licensure and bring Pennsylvania's requirements to a level that is more competitive with other states.
More information on my bill is available here.
New Holland Town Hall Event Scheduled for May 3
I deeply appreciate all of the feedback I have received at my constituent outreach events over the past several weeks, including my town hall meeting this week in Ephrata, my telephone town hall in March and my coffee and conversation event held in Mount Joy. I look forward to another productive discussion during my town hall meeting in New Holland on May 3.
The New Holland town hall meeting will start at 6:30 p.m. at Garden Spot Village, located at 433 South Kinzer Avenue. More details on the event are available on my website at www.senatoraument.com on the 2018 Events page, which is listed under the 36th District tab.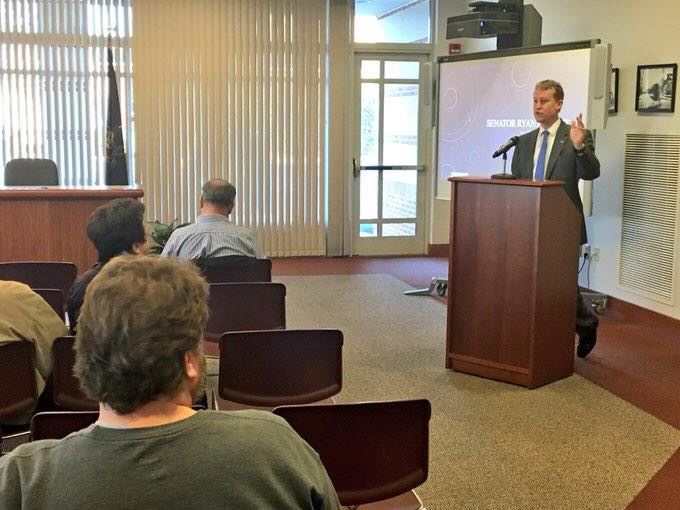 Thanks to all of the community residents who came out for my town hall meeting in Ephrata and shared their thoughts on some of the most important issues facing our communities.
Application Period for PSP Camp Cadet Program Ends April 30
Young people who are interested in learning more about law enforcement are invited to participate in a free week-long summer program hosted by the Pennsylvania State Police and municipal police officers from August 12-18.
The Lancaster County Camp Cadet program is available to young adults age 11 to 13. In addition to physical education training, young cadets can learn more about law enforcement through classes about fingerprinting, water safety, police artistry, radar use, fire prevention, photography and other topics.
Applications and more information are available online at http://www.campcadetoflancastercounty.com. The deadline to apply is April 30.
New Medicare Cards Will Protect Against Identity Theft
In the near future, Medicare beneficiaries will receive new cards that will not include the individual's Social Security number. The new cards will help fight identity theft for citizens who are covered by Medicare.
The new cards are expected to be mailed this month. More information on the new cards is available here.