Thank you for subscribing to my E-newsletter. I am honored to serve the 36th Senatorial District and look forward to working with you toward building a stronger Pennsylvania. This E-newsletter serves to keep you updated on what is happening throughout  Lancaster County and what I am doing as your State Senator in Harrisburg – I hope that you find it helpful! Should you have any questions, comments, or concerns, please DO NOT reply to this email; instead, please feel free to contact me here.
In this Update:
It's Not Too Late to Join the Conversation on March 20
Supporting PA's Small Employers
Budget Hearings Begin March 20
2023 Priority: Creating Job Opportunities by Lowering Taxes
Examining Government Cloud-Based Cybersecurity
WellSpan Health Recognized with Achievement Award
Happy 100th Birthday to John Smith!
Strengthening Guardianship Laws, Preventing Elder Abuse
DMVA Mobile Outreach Vans to Serve Vets
PennDOT Invites Public Feedback on Transportation
---
It's Not Too Late to Join the Conversation on March 20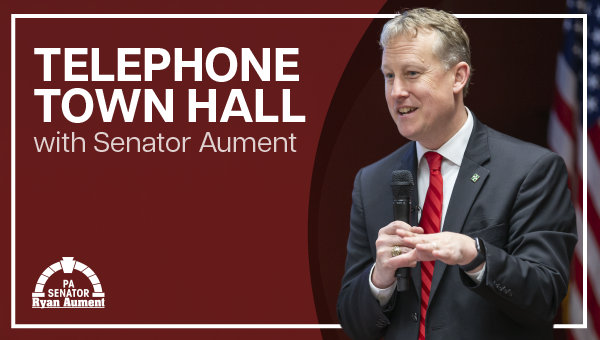 There's still time to join my Telephone Town Hall event this Monday, March 20, from 6:30-7:30 p.m. You'll have the opportunity to ask me questions or share your thoughts on state-related issues. Of course, I will also provide information about important legislation and topics that may affect commonwealth residents.
The call will enable us to interact just as we would at a traditional town hall meeting – except you don't have to leave your home.
If you would like to be invited to join my telephone town hall meeting, please click here to sign up. At the time of the event, you will receive a telephone call from me inviting you to participate. Simply stay on the line, and you will be connected to the call. You can also choose to audio stream the event live via your smartphone or PC here.
I look forward to talking with you soon!
Supporting PA's Small Employers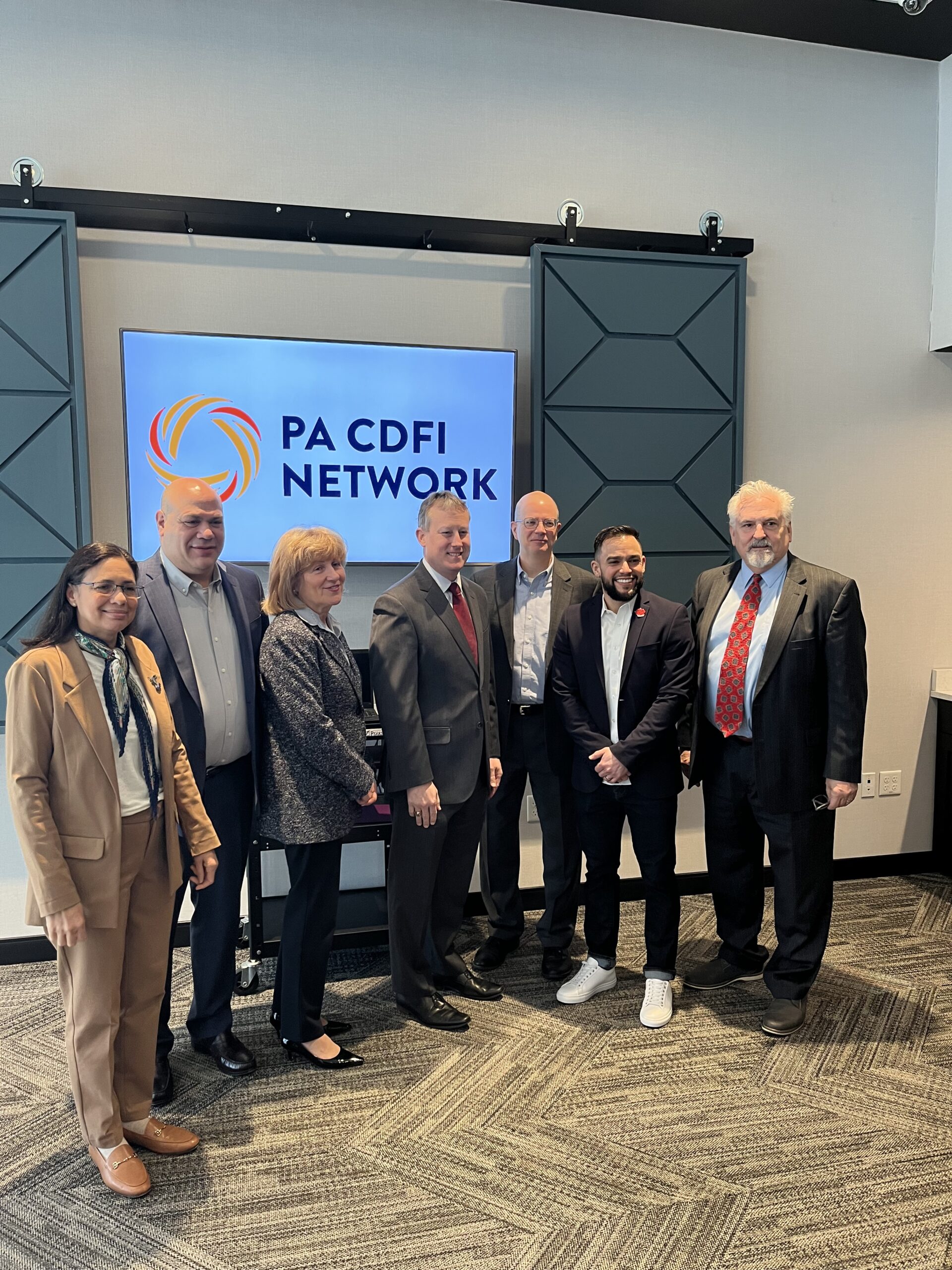 I was pleased to join Sen. Judy Schwank and Rep. Mike Sturla at PA CDFI Network to discuss how we can work together to keep PA small employers' doors open. Small employers give more than 2.5 million Pennsylvanians jobs, which drives our local economies.
During our conversation, I talked about the work my colleagues in the Senate Republicans and I did to support small employers. Initiatives include tax relief, COVID-19 pandemic relief, regulatory reform, and liability assistance.
I will continue to work to protect Pennsylvania jobs, which includes supporting small employers that play such an important role in the commonwealth.
Budget Hearings Begin March 20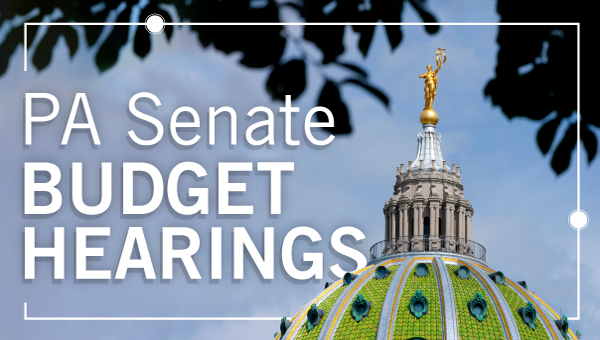 Three weeks of budget hearings held by the Senate Appropriations Committee will begin next week with appearances by the Department of Revenue, Independent Fiscal Office, Department of Conservation and Natural Resources, State Treasurer, Department of Environmental Protection, Auditor General and Office of Attorney General.
The hearings will be used to review Gov. Josh Shapiro's spending plan and ask administration officials about the need for any proposed expenses. From there, a budget that more appropriately reflects the needs of taxpayers can be developed before the constitutional deadline of June 30.
Livestreams of the hearings and daily recaps will be available here, and I will share updates on this important process each week.
2023 Priority: Creating Job Opportunities by Lowering Taxes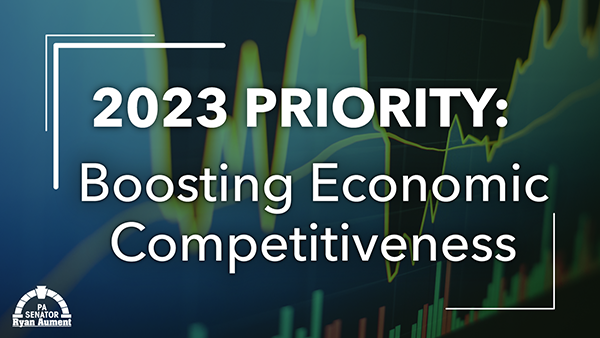 Pennsylvanians prosper when our state is able to attract high-paying, family-sustaining jobs. This year, I will focus on pro-growth economic policies that position Pennsylvania to compete and win.
One important initiative to boost economic competitiveness that I'm working to advance is the acceleration of the Corporate Net Income Tax reduction that was passed last year. While the reduction signaled that Pennsylvania is open for business, I believe we need to make our state a regional contender sooner.
We need to create an environment in which Pennsylvanians can find a good job, provide for their families, and keep more of their hard-earned money in their wallets. We have to stop exporting good workers and instead attract the jobs that keep them anchored in the commonwealth.
Read more about my legislative priorities for 2023 here.
Examining Government Cloud-Based Cybersecurity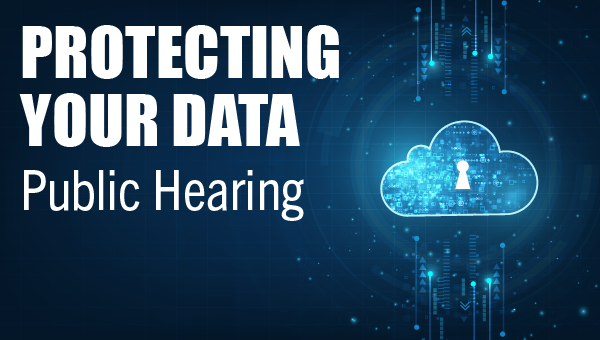 The Senate Communications and Technology Committee brought together information technology experts this week for a public hearing about securing cloud-based data held by state and local governments.
With cloud storage, digital data is stored on servers in off-site locations. The servers are maintained by a third-party provider responsible for hosting, managing and securing data. This data includes personally identifiable information such as tax records, unemployment claims, social security numbers, driver's licenses and more.
Testifiers said the threat to cybersecurity is constant. Pennsylvania's acting Chief Information Security Officer Christopher Dressler testified that, in a recent month, there were approximately 38 billion unauthorized attempts to connect to the state network. He said cloud computing presents cybersecurity benefits for the commonwealth, such as intrusion prevention, malware protection, identity and access controls and encryption. View video and written testimony from today's hearing here.
WellSpan Health Recognized with Achievement Award
Congrats to WellSpan Health for being recognized with the Hospital and Healthsystem Association of Pennsylvania Achievement Award for innovative efforts and real-time problem solving to address patient safety.
WellSpan's organizational emphasis on providing high quality, safe care led to a 45% reduction in what are considered "serious events" from WellSpan's fiscal year 2020 to fiscal year 2022. The same period also saw a 97% increase in safety event reporting to address issues as they arise.
Learn more here.
Our communities are fortunate to be served by such world-class hospitals!
Happy 100th Birthday to John Smith!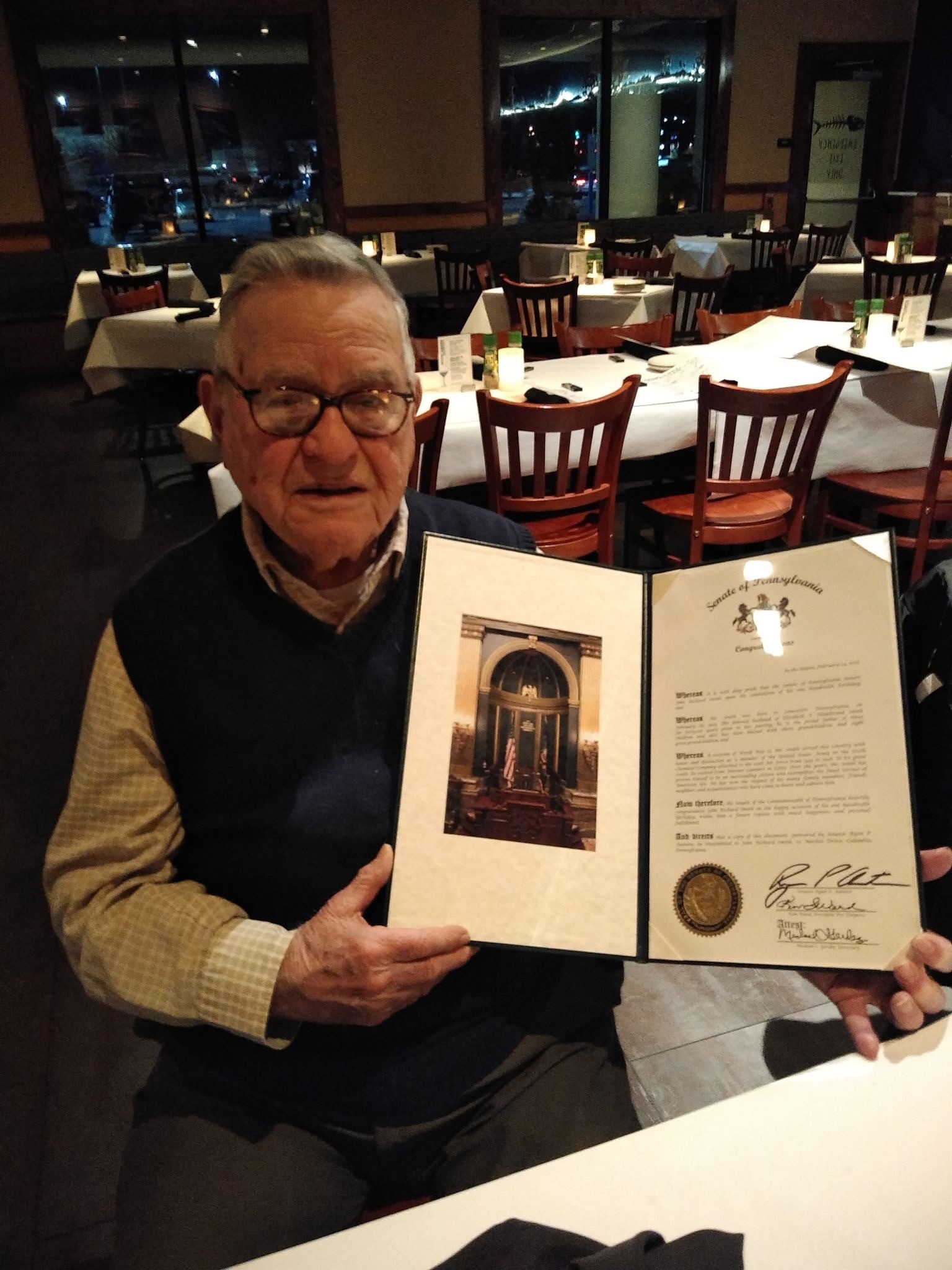 Happy belated 100th birthday to Lancaster native, John Smith! Mr. Smith honorably served our country in World War II as a member of the U.S. Army in the 870th Chemical Company attached to the 20th Air Force from 1943-46. Best wishes to John Smith on this momentous occasion!
Strengthening Guardianship Laws, Preventing Elder Abuse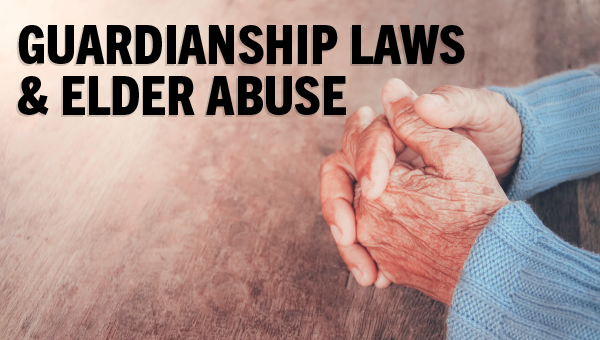 The Senate Judiciary Committee held a joint public hearing with the Senate Aging and Youth Committee on strengthening guardianship laws and preventing elder abuse in Pennsylvania.
When an adult of any age is deemed incapacitated by a court, a professional or family guardian may be appointed to become responsible for making certain decisions on their behalf, including financial, medical and personal matters.
During the hearing, testimony was given by professionals in the elder and disability law fields to provide input on the flaws in Pennsylvania's guardianship process. Guardianship issues discussed included the lengthy time to receive mandatory legal counsel and costs, necessary training of guardians, abuse, rights to counsel and more.
DMVA Mobile Outreach Vans to Serve Vets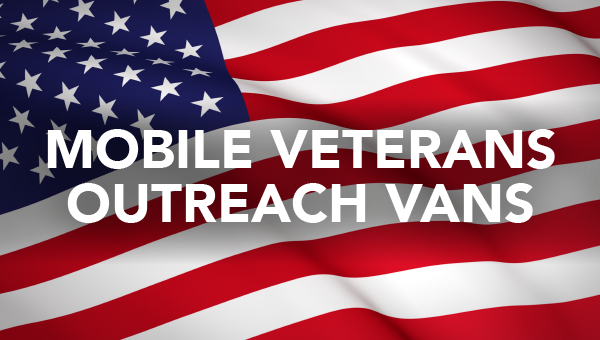 The Pennsylvania Department of Military and Veterans Affairs (DMVA) operates Mobile Veterans Outreach Vans to assist the state's more than 700,000 veterans. DMVA accredited veteran service officers travel the state to help veterans obtain information and initiate benefit claim paperwork.
There is a wide range of federal, state and county benefits available to qualified veterans and their families, and DMVA's team can be an excellent source of information and assistance. Such benefits include service-connected disability compensation, pensions, VA health care benefits, burial benefits, education benefits, vocational rehabilitation, active service bonuses and state nursing home care.
PennDOT Invites Public Feedback on Transportation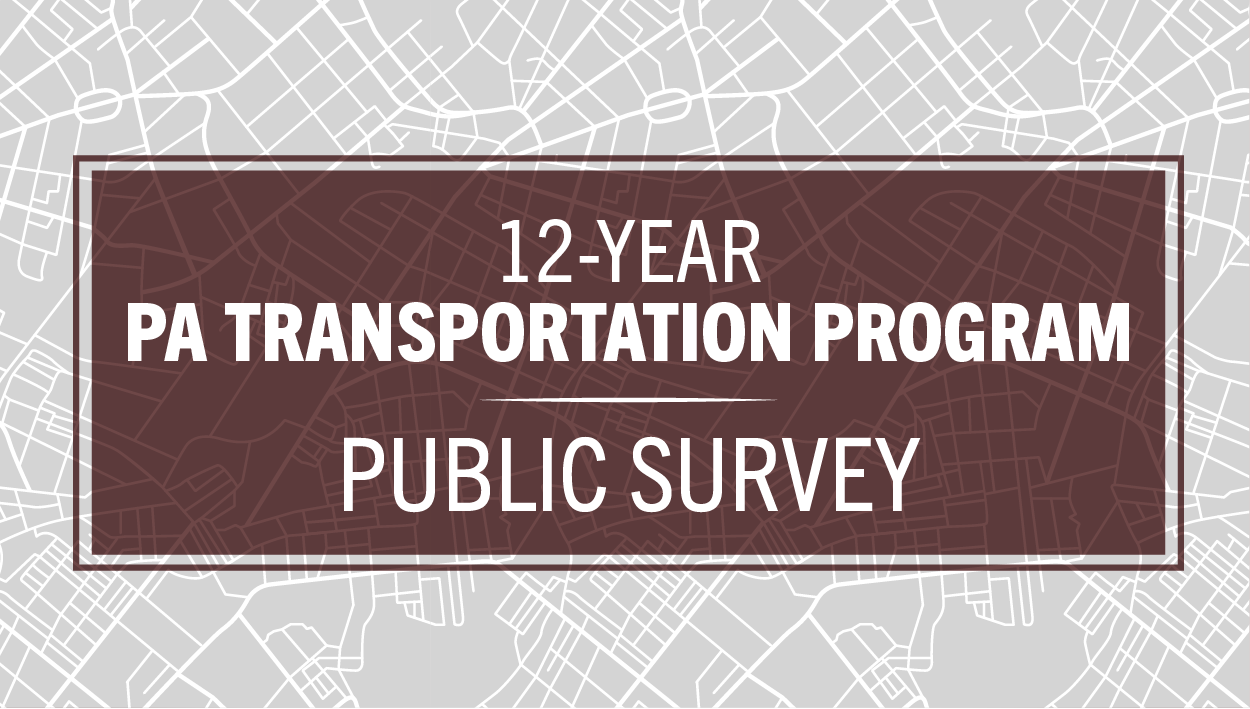 Pennsylvanians are encouraged to submit their feedback using this transportation survey or by emailing comments to RA-PennDOTSTC@pa.gov. Public feedback and survey results will help identify needs and prioritize transportation projects across the state.
PennDOT will also host an online public forum on Wednesday, April 12, from 6:30-8 p.m. Pennsylvanians can ask transportation-related questions to PennDOT leadership and members of the State Transportation Commission during the forum.
The feedback provided will be used to inform Pennsylvania's 12-Year Program, which is updated every two years. It is the first step in the state's transportation program planning process and helps to evaluate the system's performance and opportunities for progress. Learn more about how transportation projects are planned and funded.
If you are not already subscribed to this newsletter please sign up here.