If you know a veteran, please forward this issue to him or her. There are some important updates, resources and information.
In this Update:
Review, Update Your Benefits Earned in Service
Real Estate Tax Exemption
Educational Gratuity Program
Substance Use Teletherapy for Veterans
Vet Centers
Honoring Local Veteran's Incredible Legacy of Service to Our Country
---
Review, Update Your Benefits Earned in Service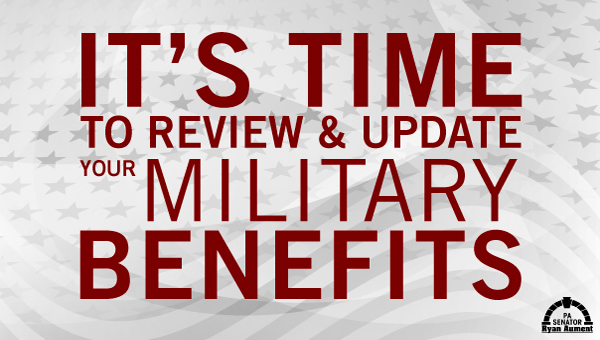 The Pennsylvania Department of Military and Veterans Affairs (DMVA) is reminding veterans to meet with an accredited veteran service professional to ensure they are receiving or maximizing the benefits they have earned through their service and sacrifice. Currently, because of the COVID-19 pandemic, a benefits review can take place by phone or virtually on the computer.
Anyone needing assistance locating his or her military documentation can contact the DMVA by calling toll-free 800-547-2838 or emailing RA-REQ@pa.gov.
Veterans are also urged to apply for federal health care and state benefits by visiting their local county director of veterans affairs or area accredited veteran service organizations to take a look at what benefits they may be eligible for and to get help applying for those benefits.
Pennsylvania's nearly 800,000 veterans should likewise sign up for the DMVA Veterans Registry, a free tool from the DMVA that electronically delivers timely information about the many state benefits, programs and services available to veterans. Veterans, family members and people who work with veterans can sign up by computer or mobile device at register.dmva.pa.gov.
Real Estate Tax Exemption
The DMVA administers a Real Estate Tax Exemption program to provide real estate tax exemption to any honorably discharged veteran who is 100% disabled, a resident of the commonwealth and has a financial need.
To find out more about the program, see the DMVA's website.
Educational Gratuity Program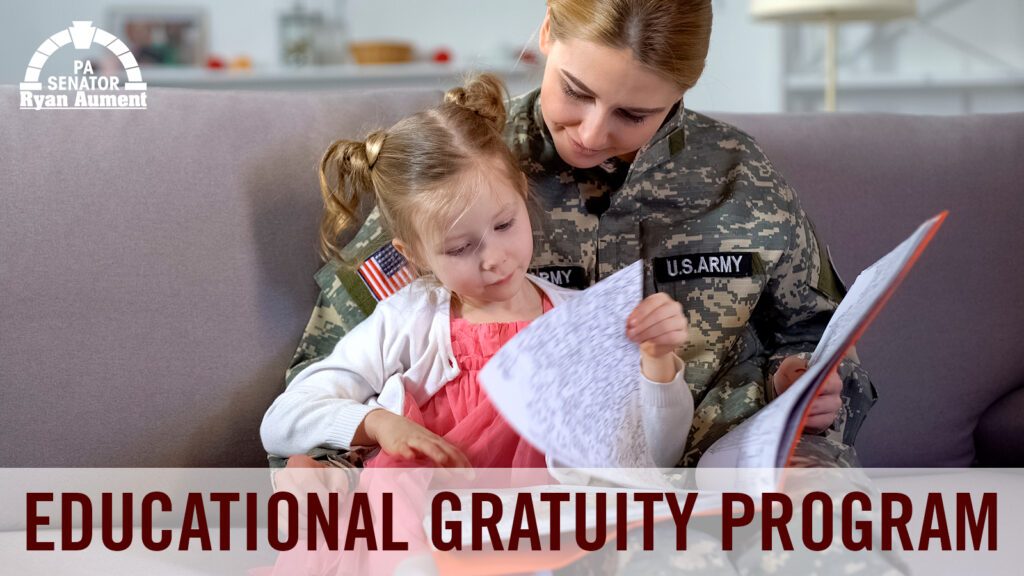 The DMVA Educational Gratuity Program provides financial assistance to children of honorably discharged veterans who have service-connected disabilities and served during a period of war or armed conflict or children of veterans who died in service during a period of war or armed conflict.
For those who are eligible, payments will not exceed $500 per term or semester per qualified child to each approved educational institution upon submission by that approved educational institution of proof of matriculation of the applicant. Educational gratuity payments are paid directly to the educational institution and may not be made for longer than four scholastic years.
To find out more about the program, see the DMVA's website.
Substance Use Teletherapy for Veterans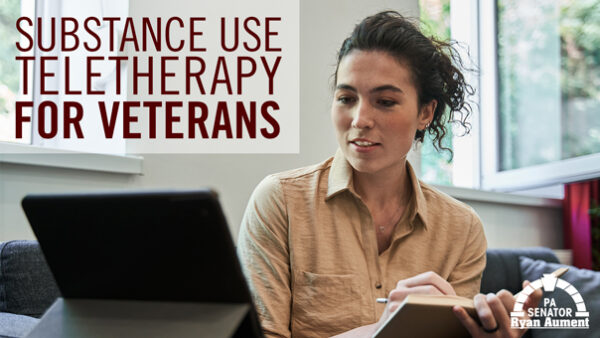 The U.S. Department of Veterans Affairs (VA) has partnered with Forge VFR (Veterans and First Responders) to offer outpatient behavioral health services to veterans to improve access to substance abuse and mental health services, with a goal of reducing suicide.
Forge VFR offers confidential, outpatient treatment programs designed for veterans, first responders, and their families, with services available at their physical locations and through their telehealth services, all in-network with Humana Military (TRICARE) and the Veterans Community Care Network (VACCN).
According to the DMVA, the services are supplied at low cost, and in some cases, no cost.
For more about what Forge VFR has to offer, see the website.
What are Vet Centers?

VA vet centers provide free and confidential readjustment counseling for War-Zone Veterans and their families, from World War II to the current Global War on Terror.
Vet centers are small, non-medical, counseling centers conveniently located in your community. They're staffed by highly trained counselors and team members dedicated to seeing you through the challenges that come with managing life during and after the military.
Our region is served by the Lancaster Vet Center, which is one of 12 vet centers in Pennsylvania and more than 300 across the country. Whether you come in for one-on-one counseling or to participate in a group session, at vet centers you can form social connections, try new things, and build a support system with people who understand you and want to help you succeed.
Who is Eligible to Receive Services at Vet Centers?
Vet center services are available to veterans at no cost, regardless of discharge character, and without the need to be enrolled in VA health care or having a service-connected disability. If you are a veteran or service member, including members of the National Guard and Reserve, you can access vet center services if you:
Served on active military duty in any combat theater or area of hostility.
Experienced military sexual trauma (regardless of gender or service era).
Provided mortuary services or direct emergent medical care to treat the casualties of war while serving on active military duty.
Performed as a member of an unmanned aerial vehicle crew that provided direct support to operations in a combat theater or area of hostility.
Accessed care at a vet center prior to Jan. 2, 2013, as a Vietnam-era veteran.
Served on active military duty in response to a national emergency or major disaster declared by the president, or under orders of the governor or chief executive of a state in response to a disaster or civil disorder in that state.
Are a current or former member of the Coast Guard who participated in a drug interdiction operation, regardless of the location.
Contacting Your Local Vet Center
Even if you are unsure if you meet the criteria to receive services from a vet center, please contact a center – if the center can't help you, they'll find someone who can.
Center services are also available to family members when their participation would support the growth and goals of the veteran or active-duty service member. If you consider them family, so does your local center. Bereavement services are also available to family members of veterans who were receiving vet center services at the time of the veteran's death, and to the families of service members who died while serving on active duty.
The Lancaster Vet Center, located at 1817 Olde Homestead Lane, Suite 207, Lancaster, PA 17601, can be contacted at 717-283-0735 or toll free 24/7 at 1-877-WAR-VETS (927-8387).
The other vet center locations in Pennsylvania are:
Bucks County Vet Center, 2 Canals End Road, Suite 201B, Bristol, PA 19007, 215-823-4590
DuBois Vet Center, 100 Meadow Lane, Suite 8, DuBois, PA 15801, 814-372-2095.
Erie Vet Center, 240 West 11th Street, Suite 105, Erie, PA 16501, 814-453-7955
Harrisburg Vet Center, 1500 N. Second Street, Harrisburg, PA 17102, 717-782-3954
Norristown Vet Center, 320 East Johnson Highway, Suite 201, Norristown, PA 19401, 215-823-5245
City Center Philadelphia Vet Center, 801 Arch Street, Suite 502, Philadelphia, PA 19107, 215-627-0238
Northeast Philadelphia Vet Center, 101 East Olney Avenue, Philadelphia, PA 19120, 215-924-4670
Pittsburgh Vet Center, 2500 Baldwick Road, Suite 15, Pittsburgh, PA 15205, 412-920-1765
Scranton Vet Center, 1002 Pittston Avenue, Scranton, PA 18505, 570-344-2676
White Oak Vet Center, 2001 Lincoln Way, Suite 280, White Oak, PA 15131, 412-678-7704
Williamsport Vet Center, 49 East Fourth Street, Suite 104, Williamsport, PA 17701, 570-327-5281
For more information, please visit www.vetcenter.va.gov
Honoring Local Veteran's Incredible Legacy of Service to Our Country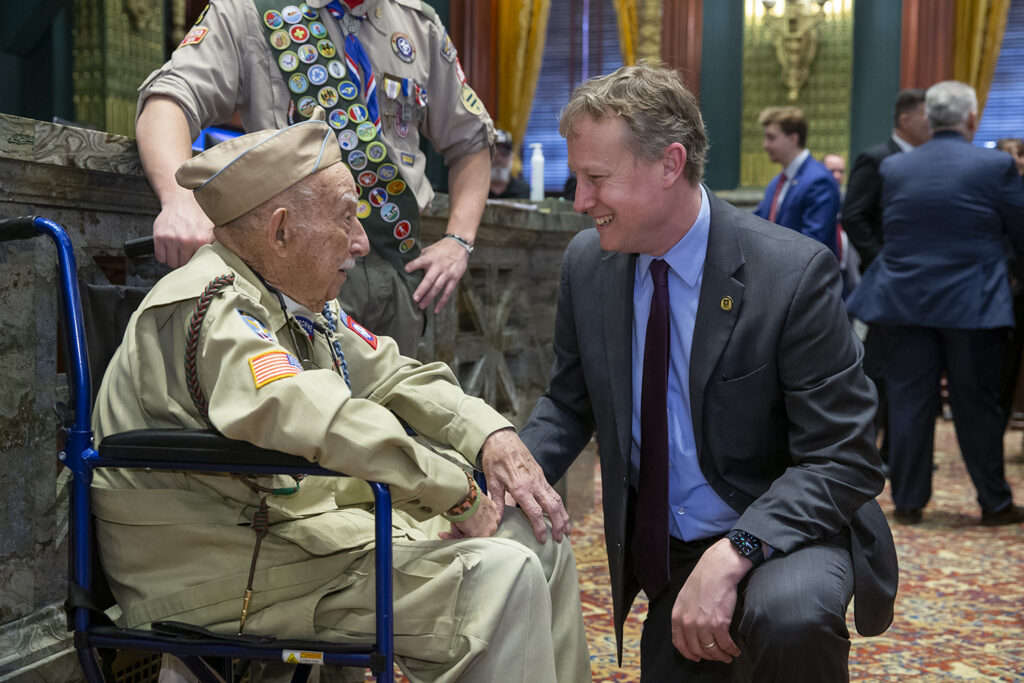 This week, I had the pleasure of meeting Ray Wallace on the Senate floor, one of the few surviving veterans who fought for our country on June 6, 1944. Ray was just 18 years old and a paratrooper with the 82nd Airborne Division on D-Day.
He landed more than 20 miles from his drop zone and ultimately met up with 180 mis-dropped soldiers who fought off more than 2,000 Nazi soldiers for two days. Ray was ultimately captured and spent the remainder of the war in a Nazi prisoner of war camp.
Now 97 years old, Ray lives in Columbia, PA with his family. You can watch my full introduction of Ray on the Senate floor here.